Disclosure: This page may contain affiliate links, meaning we receive a commission if you decide to make a purchase through our links, but this is at no additional cost to you. Please read our disclosure and privacy statement for more info.
So it's 4am during a painfully slow night shift and all you can think about is eating a sugary snack to bring you back to life. Not so fast my friend… We've got the solution for you that will taste just as good, without regret.
Relying on the vending machine for your next sugar hit is unfortunately short-lived.
So instead, we have created a list of healthy snacks and small meal ideas to take for your next night shift. These will not only keep you full, but help resist the urge to surrender to the evil craving from your pallet that typically involves sweets.
1. Dip Platter or Potluck
This is by far my favorite healthy snack as a night shift worker.
If you can't enjoy a picnic and dip platter in the park because you working, it doesn't mean you have to go without!
Invite your work friends to each to contribute something healthy to the platter or simply alternate who supplies the goodies each night.
This is an excellent way to be social on nights while enjoying some really tasty food.
Items to Include in Your Night Shift Meal Platter:
Pre-cut and washed vegetable sticks like celery, carrots, raw cauliflower, mini Lebanese cucumbers and peppers
Bunches of grapes or a punnet of berries are refreshing and full of natural sugars to give you the boost you need. (We should be aiming for 5 veg and 2 fruit every day… even when not on night shift) (source)
Slice up some apple or pears or add some grapes
Hummus dip with harissa pasta on top or mixed through adds a little more flavor and is simply delicious!
String cheese or cottage cheese
Avoid the biscuits and crackers if you can, but if you do add them, make sure they are wholemeal or even gluten-free to minimize bloating and feeling sluggish
Craving a crunch?

Sugar snap peas or snow peas can help with that urge. They can be bought pre-washed and conveniently packaged in a small container for ease of transportation.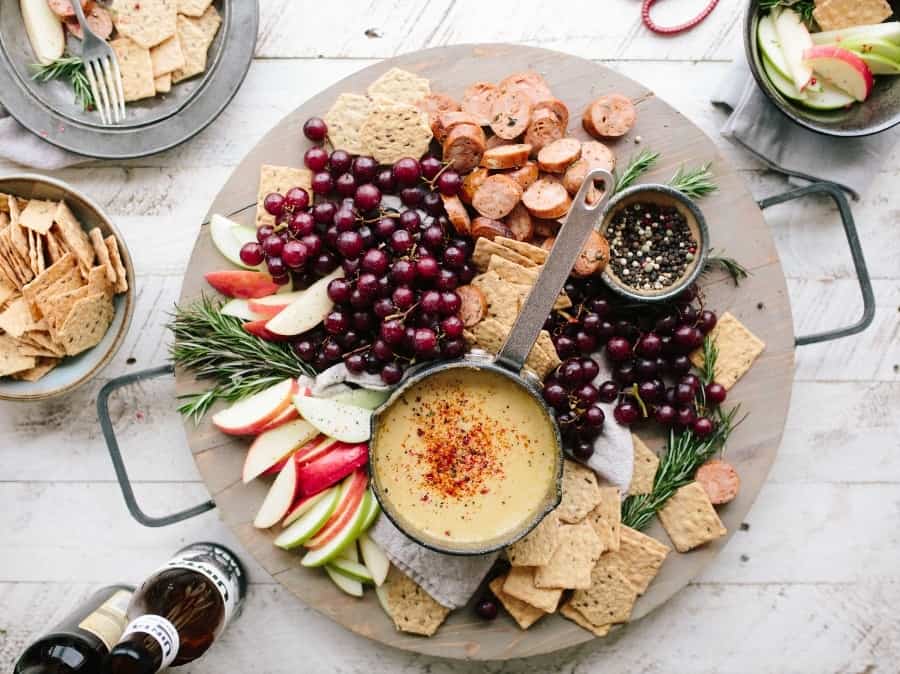 2. Chia Pudding
If you're new to the chia seed craze, let me fill you in. Chia seeds are super rich in fiber, omega-3 fats, protein, vitamins, and minerals.
They look like tiny, little seeds which fill with water after a period of time, making them perfect for a pudding as they create a thick consistency and keep you full for longer.
Research is now showing Chia seed benefits also include promoting healthy skin, reducing signs of aging and supporting the heart and digestive system.
Here is a basic Chia pudding recipe to get you started:
Ingredients
6 tablespoons of chia seeds (for a double batch) or 3 Tablespoons of chia seeds to 1 cup of liquid for a single serving.
2 cups unsweetened coconut, almond or cashew milk (these kinds of milk give a creamy taste)
Blueberries, strawberries or blackberries for the topping
Optional extras: vanilla extract, maple syrup, ground cinnamon, pinch cardamom, ground cloves, chopped raisins, honey (great paleo option) and for a chocolate version, add some cacao powder

to the mix.
Method:
Mix all the ingredients inside a glass container with a lid, such as a mason jar like these brilliant Golden Spoon Mason Jars from Amazon so you can shake the contents together without any mess, plus easy, airtight storage.
Insider Tip…

We recommend making these puddings the night/day before your night shift because the chia seeds need time to 'sit' before eating. Plus, it's one less thing to prepare work.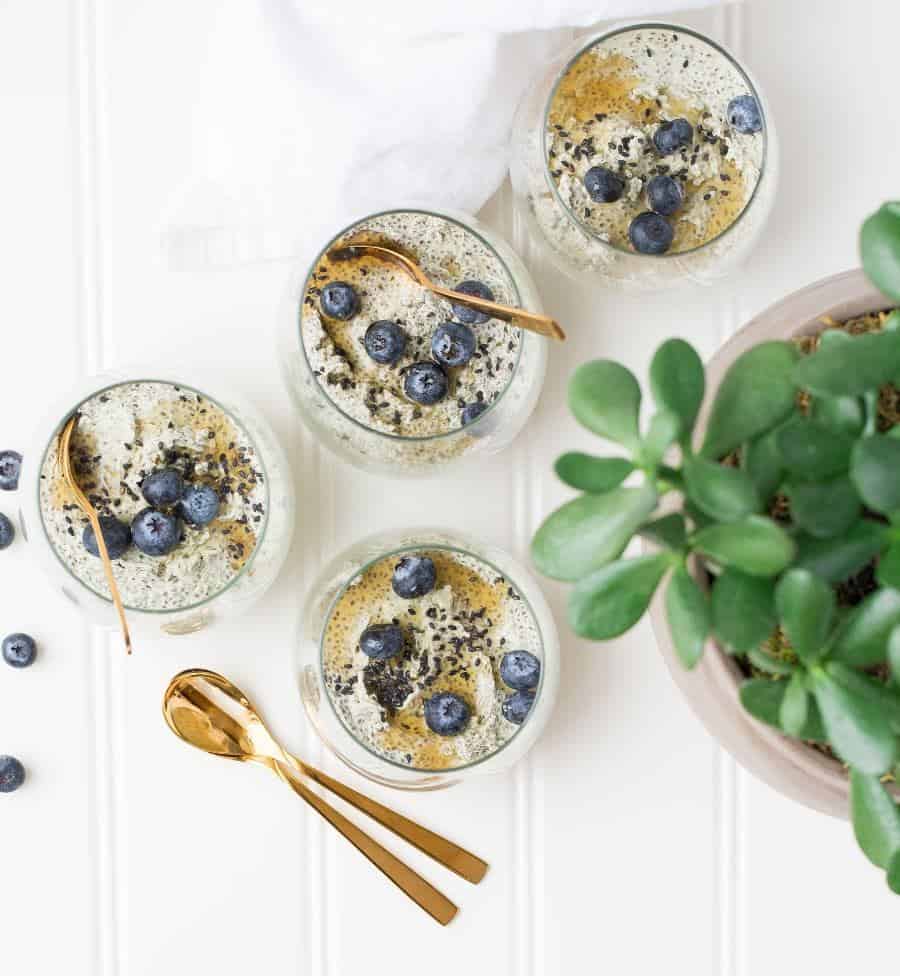 3. High-Fiber Granola
Enjoy granola in the pre-packaged bar form or on its own.
Just be really careful with the sugar and fat content on the packaging. Companies can be super sneaky even when trying to eat well!
Aim for 3 grams of saturated fat per 100 grams and less than 15 grams of sugar per 100 grams – if there is dried fruit, there might be a little more sugar, so be mindful of this.
Sprinkle your granola with berries and Greek yogurt (no-fat yogurt works best for me) and even try making your own. The yogurt has been proven to help boost the feeling of fatigue. (source)
Here is a great Paleo Granola Slice recipe which is super tasty and easy to transport to work
Ingredients:
¼ cup pumpkin seeds/pepitas
1 cup raisins or cranberries (or you're favorite berries)
Method:
Place almonds, cashews and coconut flakes into a food processor until small chunks
Microwave (or heat on the stove) coconut oil, honey, vanilla for approx. 30 seconds
Add seeds, nuts and coconut flakes and mix well
Place into a cooking tray lined with baking paper and bake for 20 minutes until lightly golden brown
Remove from heat, add raisins and salt
Allow to cool and break into chunks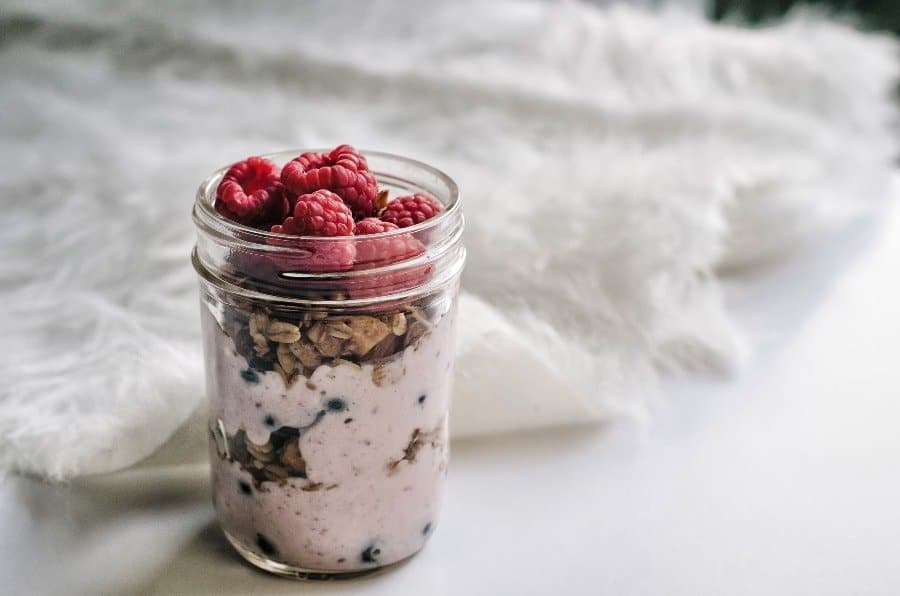 4. Devilled Eggs or Gourmet Boiled Eggs
Eggs are packed with protein, are easy to prepare and transport to work, making them the perfect night shift snack. Plus, they keep you fuller for longer. But, as I mentioned earlier, a boiled egg on its own is not much fun so try these two suggestions:
Devilled eggs, my newly discovered treat! Devilled eggs can be prepared by hard boiling the eggs, removing (and eating!) the yellow part or the yolk and placing a small spoon of mustard or mayonnaise inside. Delicious!
Gourmet boiled eggs: Boil a few eggs in a saucepan, peel them, then fry up a handful of bacon. Mix these together with some avocado and you have one delicious snack!
These egg treats are great because they can be eaten cold and you don't need to wait for the microwave to be free.
If you want to have eggs on toast, make sure the bread is whole grain, brown or seeded and avoid the white variety.
Do you prefer scrambled eggs?

Use the microwave! Bring along two (or more) raw eggs to work in a safe, cushioned container (lined with a paper towel), crack them in a bowl, mix in some milk, ham, cheese, salt and pepper and cook in the microwave for 2-3minutes. Yum!
Related post: When Should I Eat on Night Shift?
5. Toast Topper
Cook a piece of wholemeal, gluten-free or brown toast and have fun with a variety of toppings. This is no ordinary, boring toast!
Such options you could try:
Sliced banana with/without cinnamon and honey
Sliced banana on top of ricotta cheese, topped with raisins and pecans
Avocado with/without Vegemite (available on Amazon if you've always wanted to try it!) plus salt, red pepper, and a squeeze of lemon. Sounds strange but it is a real treat for your taste buds!
Avocado with, trout or salmon, red onion and capers.
Avocado, salt and pepper, with a hard-boiled egg you have pre-cooked and peeled.
Cottage cheese and cucumber
Baked beans (watch the added sugar – or make your own) and avocado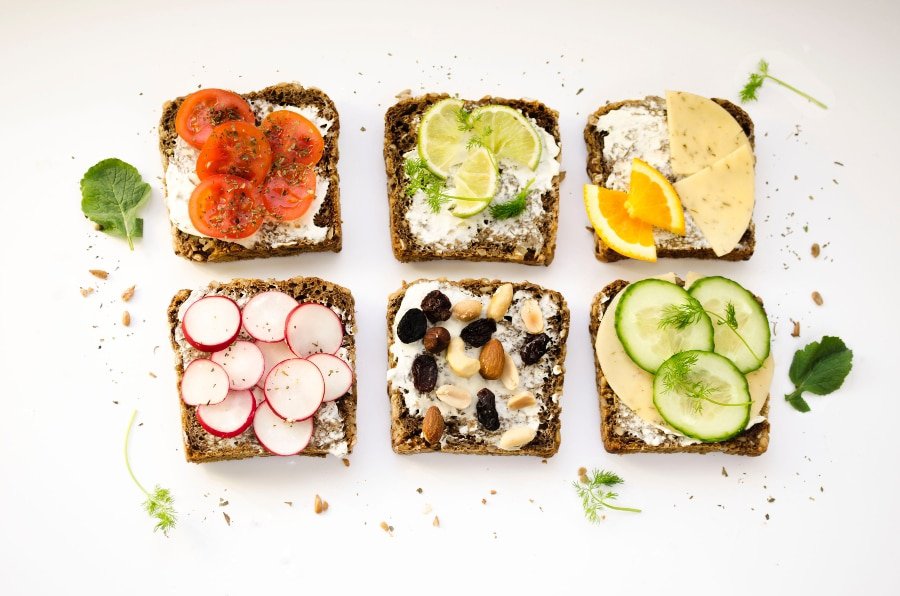 6. Fruit and Nut Mix
We often tell ourselves on night shift we are "starving" when in fact it probably doesn't take much to fill our bellies.
Traditional dried fruits and nuts may not seem like much but they provide us with essential nutrients, such as fiber and potassium and have been linked with lowering numerous health issues such as Osteoporosis, cardiovascular disease, type 2 Diabetes and preventing weight gain.
Plus, they are delicious and so easy to transport.
On your next day off, why not make your own fruit and nut mix?
Nuts (raw, unroasted cashews and almonds)
Seeds (pumpkin – raw or sprouted are best)
Chocolate (dark least 70% cocoa)
Fruits (unsweetened raisins, dried cherries, cranberries and apricots and dried cranberries)
Extras (organic popcorn)
It can seem expensive initially so be prepared for this (as I wasn't!) but in the long run, you get much more bang for your buck. Plus, you get to decide on the ratio between the fruit and nut.
If you find the mix bland by itself, try adding some no-fat or greek yogurt.
Related post: What Causes Night Shift Nausea and How to Finally Beat It
7. Toasted Sandwich or a 'Toastie'
There is something special about enjoying a hot meal on night shift which makes me really happy. It's the small things, right?
Some possible fillings I recommend are:
Meats: Chicken, ham off the bone, roast beef, tuna or turkey (but I actually recommend turkey prior to bed as it containers naturally high amounts of our sleep hormone melatonin. We got into this is more detail here, "What Should I Eat After Working Night Shift?")
Tomato: add this when toasting to prevent soggy bread or try sun-dried tomatoes cut into smaller pieces. However, just a word of warning, tomato can cause reflux for some night shift workers so approach this ingredient with caution overnight.
Greens – spinach or rocket (lettuce goes a little weird when toasted in my opinion).
Cheese – cottage or ricotta cheese
Avocado (great "healthy fat")
Condiments – seeded mustard, cranberry sauce (with turkey), sweet chill sauce, pepper or pesto
Another hot option is a BLT wrap. Obviously, pre-cook the bacon then add the lettuce/spinach and tomato. Try adding in some jalapeños (but watch the reflux), a dollop of light mayo or maybe some mustard. Perfecto!
If you're worried about the carbs, stick to a wholemeal or brown wrap, country bread or grain pita. But feel free to ditch the bread too and simply create a salad.
What about soup?

Soup is a great way to consume healthy veggies, remain hydrated and eat something hot, but just make sure you have containers which are spill proof. If frozen ensure you have space to thor out your meal.
This [5-Pack,30oz] Glass Meal Prep Containers

from Amazon are incredible value and work really well. No more smelly, warped, stained ill-fitting containers in your house!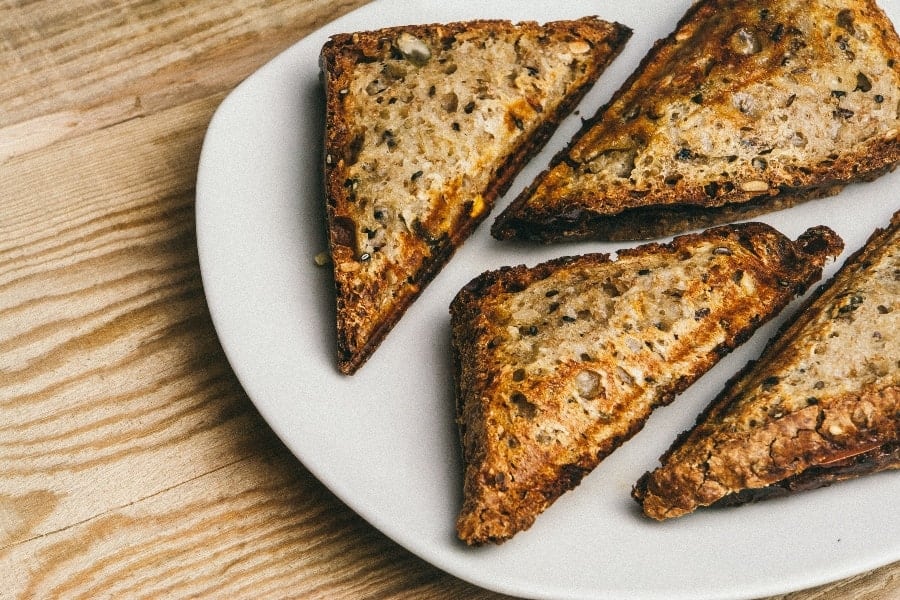 8. Tuna and Crackers
Tuna is packed with protein and is amazingly good for you. If you're anything like me, I don't have enough fish in my diet so this is a great way to sneak it in. Just don't forget the mints for when you return to work!
If you don't feel like the crackers, ditch them and simply bring along a salad to work with mixed lettuce, carrot, red onion and bell peppers.
9. Celery and Peanut Butter
I love this combination!
Celery is not only great for soups, but a gold mine our diet: (source)
Reduces inflammation
Provides an antioxidant boost
Supports digestion
While peanut butter:
Provides an excellent amount of protein, along with essential vitamins and minerals, such as magnesium, potassium, and zinc. (source)
Together it's a match made in heaven.
However…
Peanut butter is very high in calories and fat so I would suggest bringing in a small container to work instead of the entire jar, so you don't get too carried away…
Insider Tip…

Pre-cut and wash the celery before you come into work. The communal knives always seem to go walkabout on night shift.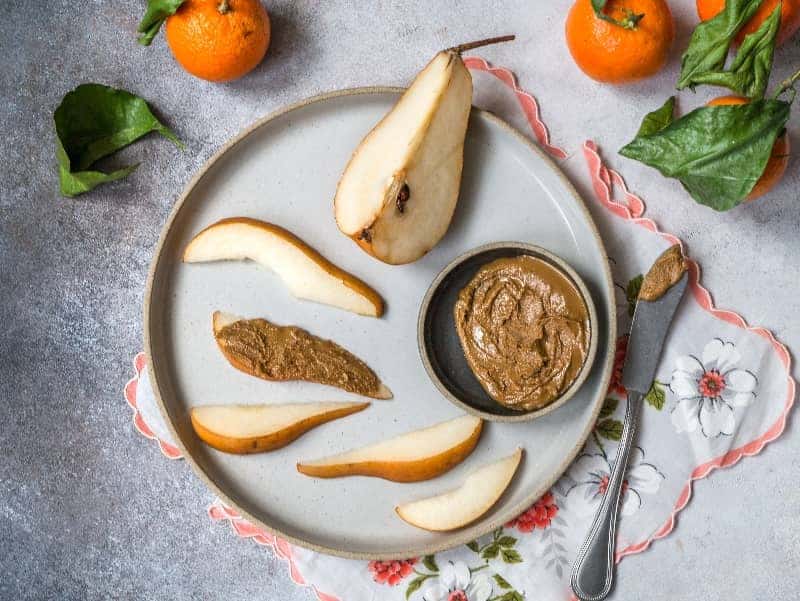 10. Dark Chocolate
I know you may prefer the milk, sugary variety but just hear me out.
Dark chocolate is made from the seed of the cocoa tree and is one of the "best sources of antioxidants on the planet." (source)
Aim for dark cholate varieties which are above 70%… the higher the percentage the more expensive it will get.
Ghirardelli Chocolate Intense Dark Squares

are pretty delicious and are available via Amazon here.
---
Bonus Snack: Homemade Protein Balls! Watch the video below as I explain exactly how I make them.
Recommended Shift Work Specific Book
"Too Tired to Cook" from the Healthy Shift Worker, Audra Starkey
Along with epic shift work tips and advice, Audra shares 15+ recipes and snacks ideas for you to try.
If you want to learn more about becoming a healthier shift worker you'll want to buy this book. I can't get enough. See it here on Amazon.com. (#ad)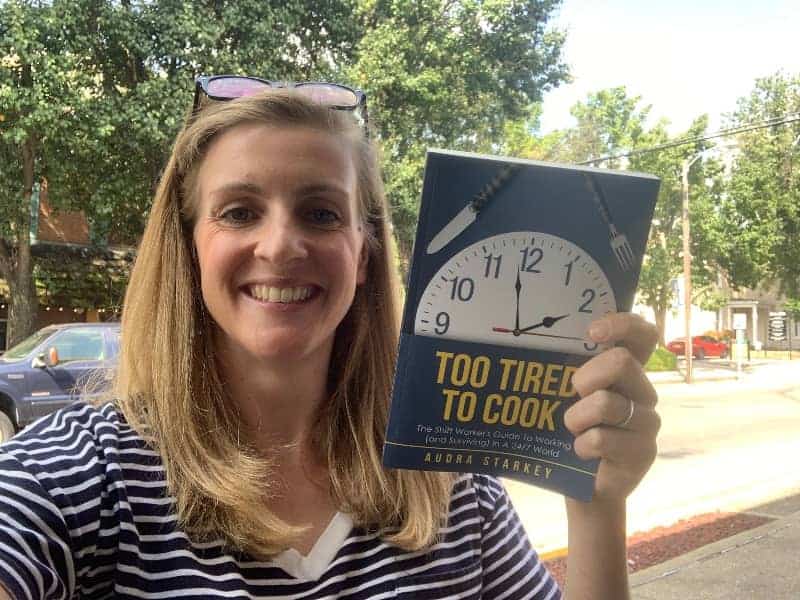 Meal Delivery Service
If the thought of meal prepping is making you tired, take a look at a meal delivery service. There are so many amazing meal delivery services that offer a huge range of meal options to suit different diets.
Continue Reading…
Shift work is our jam and what this website is all about. We have been working hard to create more helpful content so you can find sustainability and balance while working shift work.
Click on the links below to explore more.
Summary: 10 Healthy Snacks Ideal for Hungry Night Shift Workers ​
Surviving the night shift and staying healthy is completely possible with these healthy snacks for night shift workers.
This week or before your next set of night shifts, stock up on ingredients I listed here and try something new.
What other healthy night shift snacks do you use to overcome the sugar cravings? Let us know in the comments below.
Cheers,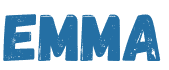 Disclosure: This page may contain affiliate links, meaning we receive a commission if you decide to make a purchase through our links, but this is at no additional cost to you. Please read our disclosure and privacy statement for more info.
Recent Posts