Disclosure: This page may contain affiliate links, meaning we receive a commission if you decide to make a purchase through our links, but this is at no additional cost to you. Please read our disclosure and privacy statement for more info.
Do your legs and feet painfully ache and throb after a shift? Do you legitimately look forward to kicking off those shoes and socks and airing out the extremities that have been cooped up all day? Surely, it's not just me, right?
You often read about muscle fatigue and delayed onset of muscle soreness (DOMS) after exercise, but very rarely do people discuss solutions for pain experienced after work due to excessive standing. It's pretty frustrating.
This post gives effective, real-life suggestions we use after a shift to not only treat, but also prevent, sometimes debilitating symptoms and long-term health complications.
1. Stick Your Legs up on the Wall
After a long, busy shift I generally look forward to taking off my shoes and socks and elevating my legs against a wall for a few minutes.
The draining of blood releases pressure and reduces pain and swelling like nothing else.
Place your butt as close to the wall as possible with a rolled-up, small towel on your lower back for support.
Remain in this position, bending your knees out for a break if you need, for a few minutes. The instant relief is wonderful and Dan loves it too!
If you need a bit more information about this pose, check out the video below.
2. Massage Your Feet
Whilst sitting on the couch after work, roll a tennis or Spiky Massage Ball

(available through Amazon here for a great price) under the bottom of your foot.
This simple trick will improve blood flow and stretch tight muscles.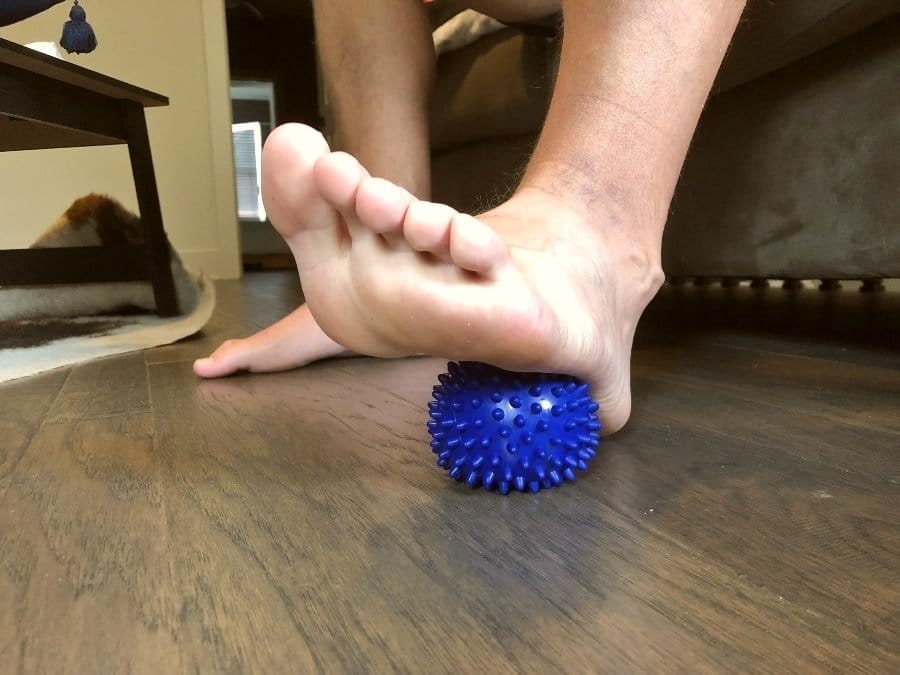 If you're after something a little more intense, why not try an electric foot and leg massage?
These are similar to those used at the nail salon for those who've attended and have experienced the utter bliss.
We don't personally own one at home, (Oh, wouldn't it be lovely?), but the human Touch product has incredible reviews and seems to be a stand out in our opinion. See the Human Touch Reflex Foot & Calf Massager

on Amazon.
3. Wear Compression Socks
The socks are especially helpful for those suffering from Spider or Varicose Veins, as the increased blood flow helps reduce symptoms and prevent the condition from worsening. For more severe cases, a visit to a varicose veins clinic

may be necessary.
It seems these socks are not just for patients in a hospital or flying on a long-haul flight.
Compression socks overcome the effects of gravity by promoting venous blood flow from the feet back toward the heart.
They prevent blood from pooling in your legs, which can worsen pre-existing health conditions like Spider or Veracious Veins. Blood clots can also be avoided in even the healthiest of people.
Before you buy…
Grab a tape measure and size yourself up. Measure around your foot, ankle, calf and thigh (if you intend on wearing full-length ones). I bought a pair of socks for work on a whim, without measuring myself first and was left with poorly fitting socks, which continually fell down.
My new, correctly fitting pair are amazing though. I do get a little hot at times, but it's totally worth it for less pain and swelling.
These two incredible, compression socks products below, are available through Amazon. I have personally tried them before and recommend them both.
Fun socks make getting dressed for nights a little more interesting! Check out these socks on Amazon.
Click on the image below to check out the other compression socks we recommend plus a bunch of other shift working tools we love.

Related post: Should I Wear Compression Socks at Work?
4. Wear High-Quality Shoes Which Fit Correctly
A wise physiotherapist once told me I should be changing my sneakers/runners/tennis shoes once every 12 months and in some situations, even more frequently.
I know, I was shocked too…
He said to basically ignore their pristine condition from the outside and try taking a look at the bottom of your shoe. If they have completely worn and are flat with zero tread, it's time to go shopping.
When buying your next pair of shoes, sneakers or leather work shoes, here are four things to keep in mind.
Are They the Right Size?
Shoes should have a firm grip for the heel but allow your toes to move freely. Remember after a few hours standing, your feet they will naturally swell and you need to allow room for this.
When purchasing sneakers, try shopping after being on your feet all day, or in the afternoon when your feet are most swollen.
This will avoid buying shoes which "just fit" to stay clear of blisters, rubbing and pain in the future.
Do Your Feet Slip and Slide in Your Shoes?
This can lead to soreness and fatigue so sneakers with shoelaces are recommended.
However, in saying this, many nursing friends of mine highly recommend leather Birkenstock clogs

and they are lace-free…
Apparently, they are the most "comfortable shoe in the world" but I am yet to try to give an honest review.
If you're on the fence maybe it's worth a try?
Do They Have a Flat Sole?
Your heels should be elevated at least 1/4-inches. Maybe this is why I didn't do too well wearing my favorite Chuck Taylors to a shift?
Shoes with heels higher than 2 inches are also not recommended as I'm sure the ladies can agree.
Have They Got the Correct Heel and Arch Support?
Consider placing orthotics inside your shoes which can be purchased from most drug or athletic stores.
If you're not sure about what is right for you, seek professional guidance and get fitted correctly.
Tip – Make your birthday/Christmas present every year from now on be a new pair of work shoes.
Remember; if you are on your feet all day for work you can potentially claim footwear as a tax-deductible purchase. It's worth investigating…
5. Use a Contoured Rubber Mat at Work
Do you work at a register, use a standing desk or simply need to stand in one spot for most of your shift?
You may already have a basic rubber mat like Rhino Mats

(check them out on Amazon here) at your workspace to relive the pressure of standing all day, but here is another idea.
I recently discovered these advanced rubber mats which are contoured instead of being flat. They allow for stretching, movement and preventing pain during and after your shift.
We particularly liked the Topo by Ergodriven

(pictured above) because it is resistant to spills or punctures and is easy to clean. You can simply move it with one foot to a different location instead of having to bend over to pick it up like some others.
Take a look at this nifty product via Amazon.
6. Apply Ice After a Shift
You may be familiar with the old "RICE" acronym after a workout?
Rest, ice, compression and elevation…
If we look specifically at the ice component, it is brilliant for decreasing inflammation not just after an injury but also after a long shift.
If you're looking for a cheaper option, see our Pro Tip below. But if you can spare a few $$$'s, then you should check out these NatraCure Cold Therapy Socks. We'd never seen anything like it and thought "what a great idea"!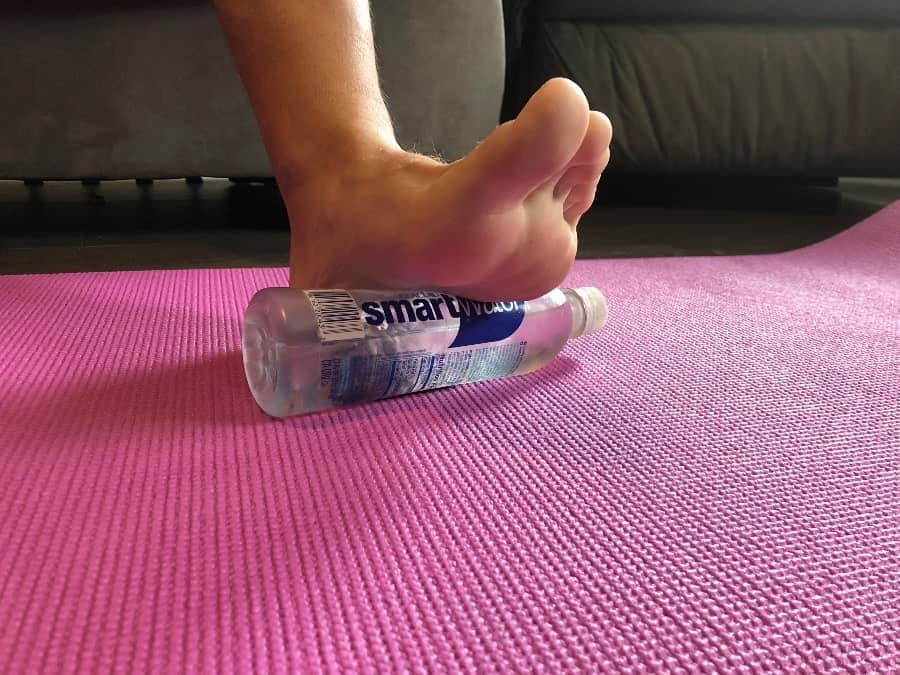 Pro Tip…

Fill a water bottle ¾ full of water and put it in the freezer. Then when you're ready to use it, fill up the remainder of the bottle with water at room temperature and place under the arch of your foot. The running water stops the ice burn on your foot. It's magnificent! (Avoid if you suffer from vascular problems though).
7. Stretch
Stretching is often overlooked to prevent pain and discomfort as many assume it's only relevant to exercise.
Our previous post here, which is well worth a read too, references stretching as a means to stay healthy when working a desk job on the night shift.
Regardless of your job, we must all remember to move every 30 minutes to 1 hour so blood flow can occur.
Try calf raises (as pictured below), runners stretch or better yet, some downward-facing dog if you feel comfortable and have space.
We recently created a post titled, "Can't Sleep After Night Shift? 13 Weird Tips That Actually Work"​ which contains more exercises and stretches you could try to complement these calf raises, preparing you for bed. Check a laugh, check it out here.
8. Drink More Water
Leg cramps can also often be caused by dehydration when we are low in sodium, potassium and other essential minerals.
Always remember to bring your drink bottle to a shift and keep it in a location you can see it.
I once got taught a very valuable lesson to save not only leg cramps but also headaches and hunger – don't wait until you feel thirsty to drink.
We use the BEAST tumbler and really love it. We did a full video review which you can check out here to see if it's right for you.
Are you stick of water? We get it. Here is a post we wrote titled, What Should I Drink On Night Shift? 10 Energy Boosting Beverages with a TON of different choices. Those who work 9-5 can be a few great suggestions too!
Bonus: Foot Yoga!
I didn't know this was a "thing," until my favorite YouTube Yoga teacher – 'Yoga with Adrienne' explained it beautifully through a video I had to share with you! Check it out below.
See Your Friendly Health Professional
If you have tried and persisted with all these alternatives and your pain still continues, consider booking an appointment with a podiatrist or doctor.
It's a good idea to rule out an underlying health condition so you can start appropriate treatment.
Next…
Summary: How to Relieve Foot and Leg Pain from Standing All Day
Say no to throbbing, aching legs and feet after a shift once and for all.
Remember, if your feet are happy, you're happy!
Let's all start being a little kinder to our legs and feet by buying high-quality shoes that fit correctly, incorporating stretching and massage into our daily routine and don't be afraid to use ice or elevation for your feet once you get home.
Thanks for reading this post on how to relieve foot and leg pain. What else do you do to relieve the pain? Let us know in the comment section below.
Cheers,

Disclosure: This page may contain affiliate links, meaning we receive a commission if you decide to make a purchase through our links, but this is at no additional cost to you. Please read our disclosure and privacy statement for more info.
Recent Posts