Disclosure: This page may contain affiliate links, meaning we receive a commission if you decide to make a purchase through our links, but this is at no additional cost to you. Please read our disclosure and privacy statement for more info.
How old is too old to become a nurse? 40, 50, 60 or even 70 and beyond? While age is just a number, can you really thrive in a world often dominated with young, 20 something females? While the opinions vary, we think it's never too late to follow your dreams.
Older adults, both men and women, wanting to join the nursing profession can bring wisdom, life experience and relatability to the aging population. It is never too late to start life as a nurse if you're willing to embrace new technology, study hard and demonstrate resilience.
This article explores 7 tips you'll be thankful to know before you dive into nursing school and start a new career. Despite often being the minority as an older student, you have the opportunity to bring a fresh and diverse perspective to the ever-changing nursing profession for the better.
I'm excited you're considering this brave new journey – let's dive in.
Just on a side note, I did start my nursing career as a 20 something female, so you could ask, "what do I know?" While this is true, I have heavily researched, asked many, many questions in online forums and worked with plenty of nurses as a nursing educator starting their career well after 40 years young. I hope the information you find here helpful and honest, to guide you to make the best decision for you.
#1. Older Nurses – Embrace Your Wisdom and Life Experience
As a nurse in my late 20's I love working with "older nurses" (what does this even mean anyway?) and I'm not just saying that to flatter you.
They often have clever, time-effective ways of doing things which quickly become the "norm" once the cats out of the bag.
Your valuable life lessons are almost always backed up with a funny story to keep our serious jobs light and positive… and the profession could use a whole lot more of it!
Embrace your past experiences because I can almost bet you'll have others admiring the way you nurse, communicate and how you read particular social situations all learned in past experiences.
You've been on this earth for longer than most of your colleagues and this gives you an enormous advantage.
You've seen, heard and personally witnessed things your younger colleagues have only seen in the movies or read in books.
You never know what direction your "past life" experiences such as well, simply being an adult, can take you within the nursing profession.
Better focus…

Remember how distacted you used to get as a teenager or young adult? Life is different now allowing you to focus on the task ahead and probably be much more time effecive.
#2. You Probably Won't Be the Oldest One, So Don't Stress About It
Through creating this blog, we've received endless emails from people in the 40's, 50's and beyond wanting to pursue a career in nursing but thought they were "too old."
While the average age for nursing students is probably somewhere in the mid 20's – you are not the only late bloomer into the nursing profession.
Interestingly, in Australia, the average age for nurses is 44.4 years old. (source)
In the United States, "majority of registered nurses employed full-time and part-time in the U.S. range in ages from 45 to 59".

(source)
As a real-life example, I recently read about 90-year old Lorna Prendergast from Australia who graduated from the University of Melbourne.
She studied the effect of music in assisting those affected with dementia after her husband passed away.
Her message was this…
The stories of men and women graduating from college (university) in their 90's to pursue their dreams inspires us and showcases, it's never too late.
However… to be a realist, here are a few things to consider before diving in to study.
Nursing School
When was the last time you (if ever) wrote an academic paper with referencing?
Let me tell you, nursing school is no walk in the park, but it's not impossible by any means.
I often heard the mature aged nursing students (anybody not entering college straight from high school) getting a lot more out of their studies because they could relate it to past events in their life.
Plus, they were less distracted from the young boys and girls in the classroom!
Depending on where you live and the state in which you live, the rules and expectations are different. But here is a general overview of what nursing school could look like:
3-4 years of full-time study either online or based partially online and in the classroom
Student placements in a variety of different settings from aged care (generally your first placement) to surgical wards, mental health, emergency and rehabilitation. You don't normally get a choice of where you go as it's often the luck of the draw, however, I'm sure you could make requests.
Academic assignments and exams throughout the 3-4 years requiring referencing, public speaking and group work.
Entrance exams at the completion of the course
Hands-on competencies such as basic life support (BLS), blood taking, checking vital signs and inserting a catheter which is done both at university and during student placements.
If you do want a "leg up," complete the BLS/ALS (advanced life support) before commencement in nursing school. The ACLS Certification Institute can help you obtain your Basic Life Support Certifications. Fast & Online. Click on the image below to explore more.
Another great resources is NURSING.com. Originally established by Jon Haws in 2014, who was working as a Neuro ICU nurse at the time. His website is now the go-to site for nursing students and new graduates. I have taken a few of their courses and they are so good. Thorough, well organized and not overly expensive compared to some others.
Here are a few of their courses/resources:
Helpful Cheat Sheets
Concise videos (around 10-12 minutes)
Their comprehensive NCLEX book
Practicing experts (meaning the staff giving advice still actually nurse)
Practice Questions
---
While nursing school may be full-on, there is so much support and guidance available to you. Your teachers want you to succeed and will do everything they can to see you find success.
It will take determination, hard work and potentially sacrifice to re-learn new skills (or learn for the first time) such as academic writing, but the reward is enormous.
Just remember the library staff often run lectures and tutorials for students wanting to better their writing and referencing skills. Ask human resources or simply your nursing school office to point you in the right direction.
You are not the first "older person" to write an essay, not having a clue what to do. There is help available, you just need to look for it.
The Cost of Nursing School
Depending on the country you live and the university program you choose to study, the cost will vary greatly.
If you are located in the United States you're looking at around $72,000-$104,000 for your Bachelor of Science (BSN) (source) which is what provides you a nursing license (well most of the way).
If you live in Australia (or want to study abroad), there are Commonwealth Supported Places (CSP) available depending on where you study. The fee structure also changes if you pay upfront or break it up into sections. (source)
If the financials are a little tight, don't be afraid to look into smaller universities and community colleges to study.
Don't be distracted by the big signs and fancy lights. You can still receive an incredible education via a small, lesser-known institution.
Related nursing posts:
Time Spent in the Nursing Profession
Most nursing degrees take 3-4 years to complete, so if you start school at 45 and you finish at 48 or 49, you have 15-20 years (plus more if you're able) to start practicing and working. Plenty of time to pursue your dreams!
If you are a little older and only have 10 years left before retirement, that's still 10 years of making an impact to other peoples lives and feeling valued within society.
Plus, you never know the volunteer or casual work opportunities which can eventuate with a nursing degree once you enter retirement.
Just consider how long is "enough" for you.
This number will be different for everyone so try not to compare to others. Everyone's journey is different.
This book The Language of Kindness: A Nurse's Story is a perfect example of this. The author Christie Watson spent twenty years as a nurse and shares her secrets throughout this powerful book.
Her honest storytelling about the often hidden nursing profession is incredible and well worth a read. Check out the reviews here via Amazon.
Night Shift Nursing
I'm sure this is no surprise, but there is an expectation that nurses work night shift regardless of age.
Harsh but true.
If you have a very kind boss or there are permanent night shift staff readily available, you may not need to work 3rd shift too often. But it's good to keep in mind that nights are almost certainly a requirement.
But don't be scared. We want to help.
We have a bunch of resources and blog posts we personally wrote from experience about working the night shift from sleep aids, energy boosters and staying organized. Check them out below.
If you are still nervous about the night shift, leave us a comment below and I'll be sure to be in contact you.
Long Hours
Depending on where you work the hours can vary.
Some workplaces are structured with the common 8 hour shift (with a 30-minute break) while others are 10, 12 and 16-hour shifts.
There are also variations if you work as a travel nurse for example but these hours are the most common.
Nursing hours are generally based on the number of hours you work in a set period. This could be a week, 2-weeks or a month. The shifts are then broken up to meet these hours.
For example, I work a 64 hours fortnight (2 week period) which means x8, 8-hour shifts per 2 week period. While others could complete x3, 12 hours shifts a week to make up a 36 hour week.
These shifts are often random and scattered throughout the week/2 week period to keep it fair for everyone. But there is generally the ability to request and swap shifts within your team.
I wanted to mention this because depending on what jobs you have held in the past, this schedule can be a shock to the system.
12-hour shifts three days in a row… what!?
Again, this shouldn't stop you from pursuing your dreams. Why? Because there is ALWAYS an opportunity to work different hours and still nurse such as in the options I gave earlier.
Plus, you don't have to work full time (often required for graduates, however). I know moms and dads who work only 2-3 shifts per two week period and find that fits perfectly with their spouse, kids and managing finances.
The flexibility within nursing should not be understated.
Related Nursing Posts:
Cultural Differences
I really hate the saying "nurses eat their young."
It's awful, rude and goes against how I live my life and nurse.
However, I know it happens and why I want to highlight the point to you is so you are aware of situations and people to avoid.
As an older nurse, people will assume you are experienced. They will assume you know how to do things because you look older than the teens and young adults fresh out of nursing school.
Though this may seem unfair, it's how it works so you will need to become comfortable saying "I am a student" or " I am a new nursing graduate" and be prepared for what comes next when presented with a new problem or situation.
Bullying by the "clicky" younger group can happen, and I'm not saying it will, but be prepared.
Just do your thing, be yourself, share a beer or two with them after a shift and I'm sure you'll have a few admirers in no time.
I'm sure you've got kids, nieces or nephews yourself, so finding common ground won't be a problem.
A good example of this is having a laugh in what's inside this book. It's funny, light-hearted and relatable. It's called Oh Sh*t, I Almost Killed You! A Little Book of Big Things Nursing School Forgot to Teach You

and it's available via Amazon.com for a very reasonable price.
#3. Embrace Technology
…because it's here to stay!
Handwriting notes and even holding a pen to sign a drug order are becoming a thing of the past, much like hospital training in the good ol' days!
In most healthcare facilities, scanning your patient's ID band like a piece of meat in the grocery store with their own unique "barcode" is now common practice to streamline care and minimize errors.
While this can be daunting and even cause you to become a little frustrated, it shouldn't hold you back from pursuing your dream job.
While nursing has changed dramatically from what you might remember or see on the movies/documentaries there is ALWAYS room for real patient interactions and therapeutic relationships, so don't ever think that's lost.
In regards to the computer/technology side of things, you will receive all the training you need (plus more), to become familiar.
Just remember, you have seen and done SO much more than most of the other younger nurses and you WILL be able to operate a computer/tablet with time.
All it takes is a bit of practice and maybe finding a helpful, young millennial to guide you in a "crisis."
#4. Consider Doing An Online Course First
Before launching into a bachelor's degree, it could be worth taking small steps first.
Adding on from tip #2, nursing school and nursing, in general, could be a totally new ball game and can take some adjusting.
Doing an online aged care course, immunization course, personal care certificate, etc to learn some basic skills before undertaking the degree could make the transition less daunting.
You'll not only gain experience but you'll also have casual work on the side to assist financially whilst you are studying.
If you are interested in taking this road, look outside the popular teaching facilities. A smaller private university or a community college might be perfect as there could be fewer students and you feel like a person and not just a number.
#5. Don't Limit Yourself to Working in Hospitals
I'm sure you've watched the documentaries, binge-watched ER and heard the stories about the demanding nature of the nursing profession.
But don't be fooled to think every single nurse works in the same conditions and long hours shown in these Hollywood type shows, because they don't.
I want to get you excited about the endless job opportunities which exist with a nursing degree.
Here are a few of the amazing possibilities:
Nursing in a day procedure clinic.
There is generally no night shift which is a huge plus for those nervous about working nights.
School nurse
Perfect for the moms and dads or grandma and grandpa's wanting to see their kids or grandkids more often.
Traveling nurse
Work independently in rural and remote areas caring for our communities most vulnerable groups. You're in control of your schedule.
Nursing on cruise ships
Is there a better view from your office?
Nursing in GP/local doctors clinics often called Ambulatory Care Nurses
Nursing in local sports centers and for community sporting teams
Mental health nursing
While this job can still require prolonged standing, you may be doing fewer showers and ADLs in comparison to a surgical or neurological nurse.
Nursing educator
Often an 8-4pm schedule with no night shift (in some organizations).
Trainer
Performing training to businesses in areas of first aid, basic life support etc.
Research nurse
Often working inside an office type environment, building and developing evidence-based practices to improve patient care.
Critical care nurse
I wanted to sneak this one in there despite being (mainly) a hospital job, as this is my bread a butter. Yes, it's more study (1-2 years extra) but the job satisfaction is huge. Being a flight paramedic is also an option too if you like a fast pace and little planes/helicopters.
Nurse administrator
Planning, directing and coordinating medical and health services
Occupational health and safety nurse
Nursing in a range of different health clinics
For example: sexual health clinic, women's health, IVF clinic etc.
Agency/bank nursing
This means you work on a casual basis moving from place to place when staffing is dire. Your agency will call you, generally a few hours before the shift, asking for you to fill a vacancy. The money is good but you normally don't know anyone or the environment – but what a thrill!
There is a nursing position which is right for you (which is potentially less physically demanding)… but you just might need to look outside the square
Just on a side note…
Once you have completed your graduate year, so that is after 3-4 years of study, most nurses need 6-12 months to "find their groove" before either pursuing further study to specialize in a particular area.
This is normal.
If you need more time after your graduate year to figure out where you want to work that is totally okay. Have your eyes and ears open all the time as new opportunities constantly open up.
If you have physical limitations preventing you from running around a busy emergency department or standing still for hours on end in the operating theater there are plenty of job opportunties for you!
#6. You Need to Take Better Care of Yourself Than You Do for Your Patient
This may be an odd tip in a "caring" profession such as nursing, but it's something I wish I embraced sooner – even as a 20 something-year-old.
Nurses are renowned for skipping dinner breaks, having poor sleep due to erratic, irregular schedules and relying on the vending machine for the next "pick me up" – but this should not become your normal.
Burnout is a real thing.
But I am a firm believer it's avoidable if we take regular breaks, spend time in the sun with our friends and family, eat well and get enough sleep.
If you want to read more about burnout, check out an interesting post we wrote about what it is and how to avoid it here – Shift Work Burnout: Causes, Red Flags and How to Beat It​.
Here are a couple of tips to take better care for yourself as a nurse.
Even if you haven't yet started nursing school, these self-love tips can have a positive impact at any time in your life.
Prioritize Sleep
This is huge.
As we age, interestingly we need about the same amount of sleep as young adults, 7-9 hours, sometimes more.
But often sleeping for this amount of time is not possible due to chronic sleep issues or underlying health concerns.
So before you launch into a nursing career, seek advice from a sleep specialist/clinic and see if you can find a solution to your long-standing sleep issues should you have them.
Why? Your sleeping problems could get worse as you now have new, exciting stressors such as longer shifts and assessments.
However, you can try these strategies in the meantime to see if they help:
Try blue light blocking glasses (click here to find out more and how they changed the game for us).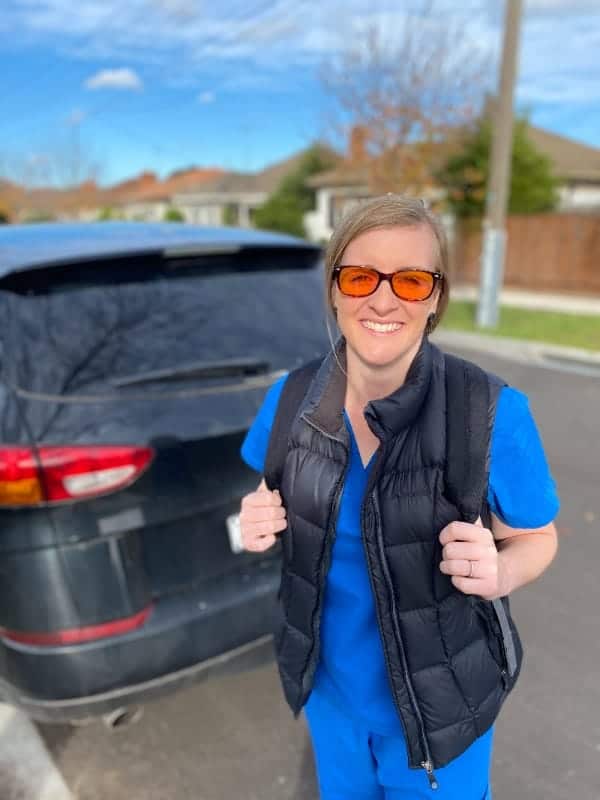 Establish a consistent sleep routine regardless of the shift you're on.
Use sleep aids you may not have used before like lavender and aromatherapy. See our favorite sleep aids here.
If you currently take sleep for granted or only get less then 6 hours a night, it's not enough.
Sleep impacts everything from our moods, weight and level of productivity (plus more) and I want you to get enough to ensure you can be the nurse you want to be.
Related Sleep Posts:
---
But what if my partner snores?
If you or your partner snores, I found a nifty solution you must try before you launch into nursing school.
It's the VitalSleep Anti-Snoring Mouthpiece and it looks like this…
They offer a 60-Night Risk-Free Trial so you've got nothing to lose, plus the reviews are amazing!
Give it go and Shop now at vitalsleep.com!
Wear Compression Socks Every Single Shift
You may have worn them before during a long haul flight or even tried them out if you suffer from painful varicose veins, but if you haven't, these socks are brilliant.
They decrease the swelling and lessen the ache when standing for long periods to help push the blood back to your heart and stop it "pooling" in your ankles, legs and feet.
See our favorite pairs here via our shift work tools page and get yourself a pair, plus check out our post titled, Should I Wear Compression Socks At Work?

Stick Your Legs up on the Wall After a Shift.
This is similar to the tip above to decrease the swelling and pain in your legs.
If getting down on the floor is too much, try lying in bed and stick your legs up against the bed head. I find this works well too and is much more comfortable.
To find out more about this clever trick read How to Relieve Foot and Leg Pain from Standing All Day.
Make Exercise a Daily Habit
Amongst the study, placements and your shifts, exercise may be the first thing to fall if time becomes an issue.
When this happened to me, I often reassured myself that all the walking I did throughout the shift was enough when in fact, it's not.
It's true we do walk MUCH more than most 9-5 workers but we need to remember that as we age, we need weights and resistance to help our bones stay strong.
You may already have found the perfect exercise schedule and I encourage you to stick to that, but for those who haven't, below are some fitness related posts of ours that might give you some inspiration.
Related Fitness Posts:
Take Control of Your Roster Where Possible
Again, this could be too early to mention if you haven't yet signed up for college but it's good to keep in mind.
In most facets of nursing, including university, there is flexibility within your roster and student placements. They just may not advertise it…
Don't be afraid to ask or request a particular day off or on to suit your lifestyle or other commitments such as your kids.
If you work a rotating shift work roster there is often the ability to request shifts up to a certain point. But be aware there are "roster lockout dates" where this access is removed so rosters can be released in a timely manner.
Be familiar when these dates are and set notifications on your phone so you don't miss out.
Here are a few articles we wrote about sorting our roster and being organized:
#7. Emotionally, You Cannot Prepare for Everything
The stories which don't make the news and nobody else knows about can and possibly will affect you when you least expect it.
While you cannot prepare for every single situation, doing a short course in death and dying or trauma, for example, can help you prepare mentally.
Such courses could be the Grief and Bereavement Counselling Certificate or the Psychology of Old Age Certificate.
Your support network of friends, family and health professionals offered through your workplace or privately to provide support and advice will be your go-to people.
There is nothing embarrassing about seeking help when you need it or think you might need it based on past events.
I have cried SO many times in my boss's office, friend's houses and even on the drive home about the things I have seen during my shifts. Life can be cruel and you are at the forefront of it all.
Personally, I think this is a privilege to assist during these tough times but it does take resilience and a good support network to push through and do it all again the next day.
Carers need to be cared for too so don't ever forget that. Even if you think "I'm older and should have the coping strategies for this!"
Bonus Nursing Tips:
1. You Will Be On Your Own A LOT
I assumed as a new graduate I would have a little more "hand-holding" in the beginning. I assumed I wouldn't need to critically think so much and be an active advocate for my patient so early on when I felt something wasn't right.
Be prepared for this.
You are not just there to follow the doctor's orders but to think as an educated professional.
This is the part of nursing to love the most.
To actually use my brain and think not only about the phycological aspects of care but also the social and emotional elements of every situation is very rewarding for me.
2. Meal Prepping Is Critical for Your Health and Wallet
I discussed earlier how important it is to look after yourself and what we eat to give us energy.
We cannot expect our bodies to last an 8-hour shift, let alone a long 12 hour night shift, if we only eat donuts and food from the vending machine.
You wouldn't put normal unleaded gas (petrol) in an expensive car that required premium, would you?
Over the years you may have developed your own routine in the kitchen and figured out meals which store and reheat well, but here are a few posts to give you inspiration:
3. Nurses Crave Perfection in an Imperfect Environment
This may be a little too early to mention if you haven't started studying yet but I think it helps relieve some stress and why I decided to list it here for you.
During a shift, we want to do everything.
We want to give all the medication timely, successfully complete all the outstanding procedures and have our rooms spick and span. But in reality, this is just not possible.
Unexpected things always happen and what's frustrating is you often don't have control over them. This means you are forced to hand things over to the next shift for them to complete or even "fix" if you just can't think anymore.
This can be hard to accept, especially if you are the type of person who likes to tick every box.
My advice…learn to accept early into your nursing career that your best MUST be enough.
You will get faster and more efficient as you build confidence so give yourself a break in the beginning – you learn these skills along the way.
Recommended Reading
Next…
In Summary: Am I Too Old to Become a Nurse? 7 Tips for Joining After 40
Starting a nursing career after 40 may seem daunting, and it is, but that shouldn't hold you back.
I once read an interesting quote which said, "A person who never made a mistake never tried anything new." (source). So go for it. Life's too short. You never know how fulfilling this new career choice may be for you. Getting out of bed every day is easy, when you find a job you love!
Cheers,

Disclosure: This page may contain affiliate links, meaning we receive a commission if you decide to make a purchase through our links, but this is at no additional cost to you. Please read our disclosure and privacy statement for more info.
Recent Posts