Disclosure: This page may contain affiliate links, meaning we receive a commission if you decide to make a purchase through our links, but this is at no additional cost to you. Please read our disclosure and privacy statement for more info.
Preparation sounds like hard work. But try working night shift without doing some – it can be a really tough time! So we're here to show you exactly how to prepare for night shifts and make sure you thrive no matter how many you're scheduled to work in row.
The best way to prepare for night shifts requires you to incorporate a number of items; food preparation, organizing the household, informing close contacts of your schedule, transitioning your sleep pattern, preparing your bedroom for daytime sleeping, exercise, and booking a social event.
As night shift workers, we have to work a little harder than those living a traditional 9-5 or daytime schedule. So this preparation stage is vital to how we sleep, perform at work and manage our personal relationships.
This post has been structured in phases, so that you get an entire overview of what's required every step of the journey before commencing that first night shift.
Our guided formula has worked time and time again for our household, where two night shift working individuals have no nervousness when their roster reads those golden letters, "NS". We hope it removes those feelings for you to!
Prepare for Night Shifts: The Days Leading Up To Your First Shift
Night shift preparation starts days before your first shift. Allowing more time to prepare helps you feel relaxed when that first night comes around.
There is no set timeframe to start preparing, as some people may be working a rotating roster and time doesn't permit to complete these tasks. However, if you can tick off our suggestions 48 hours before your run, it will help your headspace and energy levels drastically.
VIDEO – Don't Go Into Your First Ever Night Shift Without This Advice
Inform your close contacts about your schedule
This may seem basic, but make sure you are on the same page with those who are living with you and your close contacts. Think of your housemates, family, friends and even the neighbors.
When working night shifts, your sleep and downtime is of upmost importance. Letting those close to you know helps ensure they don't disturb your precious sleep or organize an event you cannot attend because you will be working or having some shut-eye.
For those sharing living quarters, we'd recommend giving your housemates a copy of this post to read: The Golden Rule For Living With A Shift Worker. It will really open their eyes to what makes a happy night shift worker when they are sleeping during the day!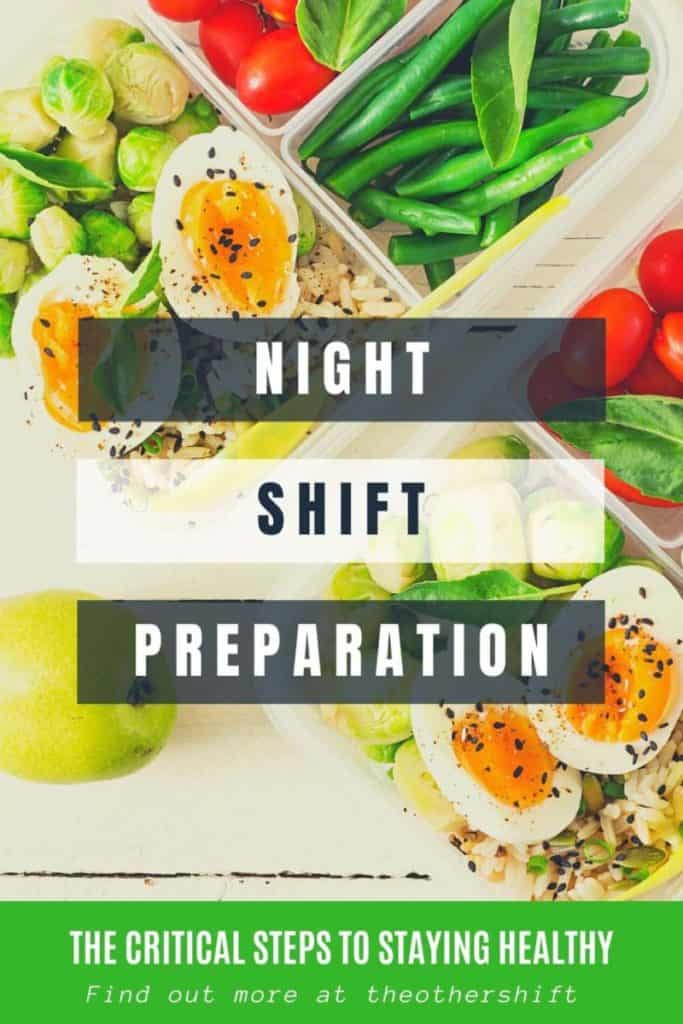 Talking about your upcoming schedule with those who you live with also allows them to prepare for the nights you are not home. This can be important for some relationships, as the different household dynamic wasn't something I truly appreciated until I was the shift work wife…
For those wanting some guidance and tips on surviving at home alone when your partner is working, (that I wish I knew sooner) check these out here:
If you're living with visual learners, maybe an extremely clear sign to explain you're sleeping is exactly what you need? Check out these funny, but to the point signs below which I found on Amazon for a reasonable price:
Lastly, once you've finished telling the important people that you've got multiple night shifts coming up, then you need to understand some people will forget.
So when this happens, make sure you remove interruptions to your daytime sleeping patterns. Activate the "do not disturb" function on your phone, disconnect the doorbell, have a "No Knockers" sign on the front door. Do whatever you need to avoid another human feeling your wrath from waking on the wrong side of the bed!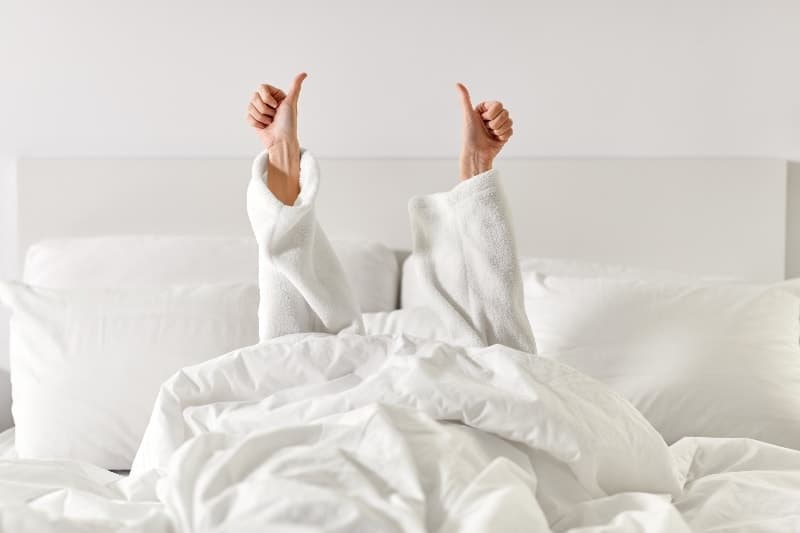 Preparing your night shift meals
I know it can be super confusing and even a little daunting figuring out where to start in regards to food preparation for night shift.
But here is a little secret to make it easier…
Your body doesn't actually like it when we eat during the night. I know… it would have been nice to know this 10 years ago when I started nursing!
Overnight our digestion performs totally different in comparison to during the day. We are actually not programmed as humans to eat overnight – unfortunately!
So we can't fuel our bodies with food it doesn't like. So this is where we must prepare what we are going to eat and this starts with shopping.
I'm going to walk you through what Dan and I do to ensure you are not left standing in front of the vending machine desperate for your next sugar hit.
1. Begin with a grocery list
I look at what we already have in the fridge, freezer and pantry, taking special notice of the items high in protein like chicken, tofu, beef, pork, eggs, nuts, granola, quinoa, chickpeas and fish (as these foods keep you full and prevent excessive snacking).
I also look to see if we have foods high in fiber, like blueberries and oats.
I'm passionate about protecting my gut and eating foods to support a happy digestive system. Why? Night shift workers are prone to being diagnosed with chronic tummy problems… and I don't want that.
Read more about this here: How to Work Night Shift, Stay Healthy and Not Get Sick.
ALso, don't forget your fruit, vegetables and condiments which will complete your desired recipes or dishes.
If you're struggling to come up with meal ideas, here are a few great recipe books on Amazon I highly recommend.
VIDEO – Best Meal Prep Tips for Night Shift Workers
2. Head to the grocer or local market
This grocery adventure should happen at least 1-2 days before you start nights. Any closer and you can put yourself into a real tizz.
Once you're at the shops here are a few techniques to save your wallet and waistline.
Stick to the outside aisles
This is where frozen and fresh produce are kept. The further you head inbound, the more sugar and processed foods you'll find (in most grocers anyhow).
Stick to picking fruits and vegetables which are in season
This ensures freshness and is generally a little cheaper. Choose the organic items if you can afford them, but the regular variety is okay too.
A standard apple (even if it's not organic) is better than a bag of chips at 2am. Remember to aim for 5 vegetables and 2 pieces of fruit EVERYDAY despite being on night shift. Just be aware of apples. When I consume them on an empty stomach, particularly when working overnight, the pains and reflux I get in my stomach are horrible!
Use a carry basket, not a cart.
If you are only going into the shops for a few things, don't take a cart because you WILL fill it with unnecessary stuff.
Of course, if you are shopping for the week, use a cart. But this trick saved me a few times from overdoing it – especially when the basket got heavy and I decided to stop.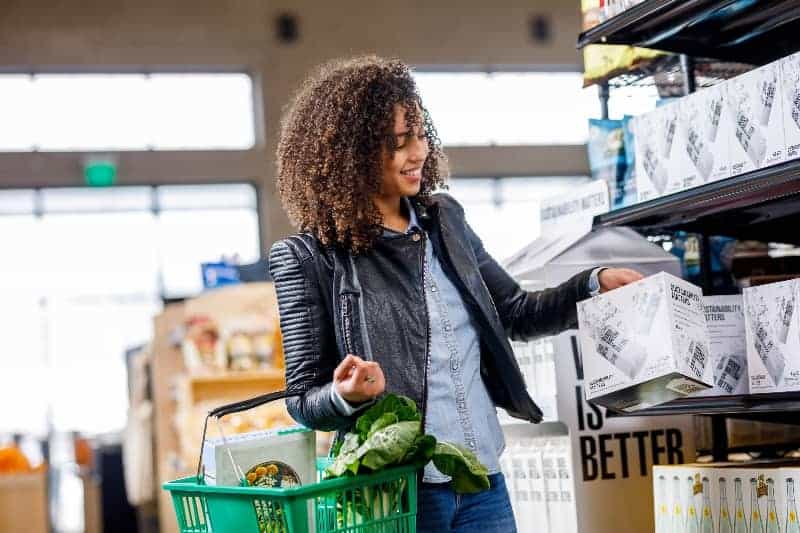 Lastly, when choosing items to cook for your night shift, consider those which can be easily stored, transported safely and reheated without any issues. For example, think twice about buying salmon, as it doesn't reheat very well in my experience.
Cook your meals
Cooking for a run of night shifts and either freezing these meals or storing them in the fridge is a significant time saver once you are working this roster.
There are three different meals we are considering here:
Before a shift
During a shift
After a shift
Each meal can provide a different desired impact if you do it right.
So we've got you covered with what to cook and how to cook it across the three different meal types below.
Before a night shift
This meal should be the biggest meal of your day.
My husband Dan, a previous permanent night shift worker, didn't like eating his meal "early" after waking and opted for eating this meal around 11pm.
Not what I'd recommend though, as this is really the latest you should be waiting to eat this meal as your digestion is ready to "sleep" or at least slowdown.
Here are a few healthy options for meals before a shift:
Mild curries.
I definitely recommend eating these types of spicy meals before you leave for a shift as the reflux can hit you hard later on.
Slow-cooked stews with rice.
(We dive into slow-cooked meals in a second)
Chicken Burrito bowl
(There may be too many containers you need to organize to take this meal into work so think wisely.) Or skip the meat and simply go for a veggie bowel instead for a lighter choice.
Pasta
Again, eating heavy carbs at 3-4am will make you want to sleep
Homemade pita pizza with lots of veggies
(Why not even consider making it vegetarian?)
Fish and salad (or veggies)
During a night shift
These snacks should be pretty small but super filling. They purposefully make the open packet of chips seem less tempting.
Soups with lots of color and veggies.
Just be very careful about the container you are bringing. Is it secure? Do you trust it? These Bayco Glass Food Storage Containers with Lids

are sensational if you need new ones or my personal favorite – this thermos one.

The other thing with soups to consider is frozen vs. fresh.
Is there a place you can store fresh soup or is there a place you can defrost your soup without somebody stealing it? (…because it looks that good!)
Vegetable fritters
Toasted wraps/sandwiches
Chia puddings
Raw veggie sticks with hummus
Toast topper
Protein ball – See the video above
Before we get too excited, we created two entire posts about healthy meals and weight loss foods to eat during night shifts.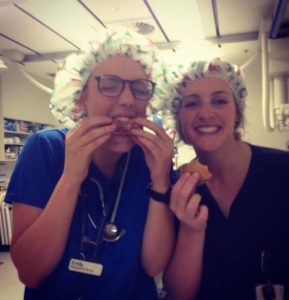 After a night shift:
Have you been just jumping into bed after a shift because you're that tired you can't be bothered?
Or have you been munching down on a bacon burger with a beer as a reward for finishing the night shift alive?
I hate to say it, but both of these options aren't great, despite being enticing…
The trick here is to eat something small but filling before you sleep. This ensures you don't wake up hungry in 2 hours. Also, avoid items that will keep you awake or your digestive system unhappy like coffee, alcohol and high-protein foods.
We go into this in A LOT more detail in an article about what to eat after a shift here.
My go-to after a night shift is oatmeal with banana, berries and no-fat yogurt. Plus, a glass of warm milk. This is hot and filling. Tick!
If you need some more inspiration check out these three posts we recently wrote:
Embrace your slow cooker
Our slow cooker is worn out before night shift!
Why? You can use cheaper pieces of meat, it requires minimal thinking time and you can use not-so-fresh ingredients to create something ultra-tasty and filling!
Throw everything in, close the lid and walk away.
In terms of which crock pot we use, we love this little beauty – Crock-Pot Round Manual Slow Cooker.

It's a little smaller than other slow cookers but does a brilliant job.
If you miss this step in the preparation, then a slow cooker is also great to use after a night shift.
Plan to turn on the slow cooker once you get home from a shift. Cut up your meat and veggies and have these ready to go in the fridge before you leave. Have the cans and condiments out the bench so there is minimal thinking time necessary once you get home. Throw it in and set it to 8 hours.
What a sight to wake up too!

Complete your housework
This may seem a little left field, but we recommend spending time completing the housework before you start your night shifts. I know, boring right!?
But once you've transitioned yourself into night shift, this stuff will be the last thing on your mind and the last thing you want to do!
When looking at ones headspace, a cluttered or messy house can leave you feeling anxious, stressed or even depressed. Studies have shown that cortisol levels, the stress hormone, are higher in people who have a cluttered home (source).
I know I'm personally much more relaxed and generally happier with a clean house vs. a house where everything seems scattered and disjointed.
Side note: For my last birthday, I asked Dan for a Dyson Stick Vacuum Cleaner.

Super romantic I know, but having a vacuum without a cord, that gets right into the corners and comes with different attachments is to me, a shift workers luxury.
If you're feeling like me, jump onto Amazon and take a look at his beauty here. A heads up, they are expensive, but you get what you pay for here!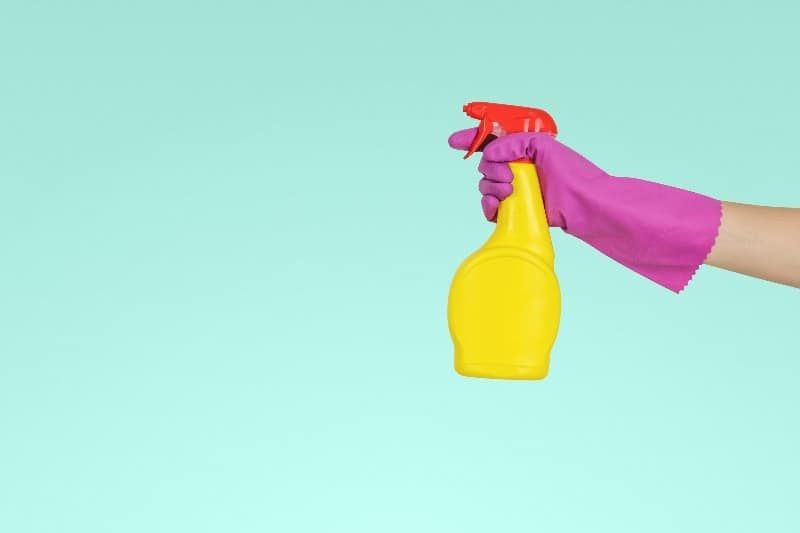 Organize the household
This section is for the mom's and dad's, or those who might have dependents who live with them – pets.
For the parents juggling night shifts and kids, firstly, we think you're amazing because in our household, we struggle just to look after ourselves!
Secondly, if you haven't already, this is a quick reminder to consider 24-hour childcare, a reliable nanny or using your parents and friends to help out where they can.
We understand there is a cost associated with this, but you can't put a price on mental health. We've seen too many people working nights, whilst trying to then run a household during the day, whilst having minimal sleep to no sleep. It doesn't last long and these people get burnt out extremely quick.
If you don't use childcare or a babysitter, be prepared for the unlikely event of working overtime or getting called in.
I will never forget the look on the face of one particular nursing mum, who was desperate to get home to take her kids to school.
Suddenly a big emergency rolled through the door and she was forced to make, what seemed like 100 phone calls to sort out her family. Talk about added stress!
Here are some related posts to help parents:
Now for those of your who consider your pets as your children, this is important as a shift worker.
Some pets are fairly self sufficient and can go for days without requiring much attention. For others, they can tear a house apart when being left to their own devices for 8-10-12 hours at a time.
Now providing advice on how shift workers can handle the range of wild and whacky pets out there is tough, so we kept it simple.
We recently wrote about owning a dog as a shift worker. There are some great tips about what to do if you're on nights and different services which are available like rover.com, which can help with walking, feeding and dog sitting.
The post is called, "Owning a Dog as a Shift Worker: Clever Tips to Make It Work" and it's worth reading below.
Confirm a social event
We've left this last for a reason. Confirming a social event gives you something to look forward to when night shifts might be getting you down.
Book in a special date with your spouse or partner. Make plans to catch up with your friends and family.
In our experience, if you wait to be asked you might be disappointed. I know that sounds a little sad, but it's the truth, right?
People are busy with their own lives, so pick up the phone, be active and do it yourself. You can't miss out on an event you organize.
Now the key here is timing. Our suggestion is to avoid any social event whilst working nights, as your time will be limited and you must not stretch yourself thin.
Events after you have finished nights can feel like a reward for your hard work.
If you're organized enough and need a pick me up during your run of shifts, then an early dinner with a friend before your shift is possible.
Myself and a few of the other nurses working the night shift used to go to a delicious Thai place across the road from the hospital for an early feed. And I loved it.
Social life and few laughs… tick, dinner… tick, feeling great…tick!
Need a different night shift date idea?
We recently stumbled across a really cool concept called Night In Boxes

and we think it's PERFECT for shift workers like us.
Basically, you order any box from Night In Boxes

and a special, hand-designed package full of everything you need for the ideal date, gets delivered right to your door.
It's much cheaper than dinner, a movie + dessert and you get to do it from home!
Click HERE

to find out more and have a special date organized in under a couple of minutes, which even the kids can enjoy!
Nothing beats a special night in your PJ's, while still being super romantic – This date is hard to beat!
Prepare for Night Shifts: 24 Hours Before
Adjust your sleep pattern
We know some shift workers who swear by this method as the key to working the night shift.
On the night before your shift, stay up as late as you can. 3am – 4am is the ideal time. Then sleep until mid-afternoon the following day.
Video calling your mates in different time zones or a Netflix marathon are just some ideas to help you stay awake.
We are conditioning our body for the night ahead and trying to move that body clock into a more nocturnal timezone.
Alternatively……
When I'm doing a set of nights, I tend to do things a little differently to the above.
I go to sleep as normal the night before. I get up reasonably early (7am-8am) and run my errands; clean the house, go to the gym, complete the washing. Then I take a nap in the afternoon for as long as I need (more of this in a second). I then wake up, have dinner and go to work.
We suggest trying different methods until you find one which sticks.
There is no quick fix, but you can definitely find something that works for you.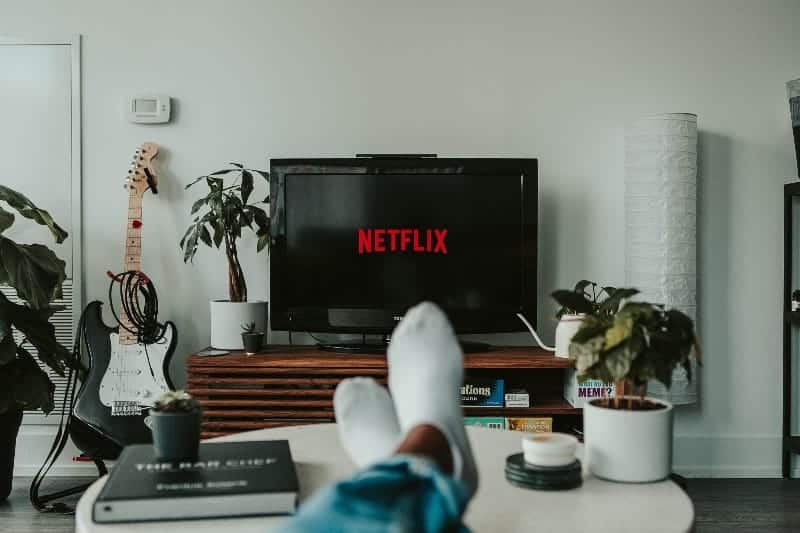 Prepare for Night Shifts: The Day Of Your First Shift
Work up a sweat
We recommend exercising, straight after you wake the day of your first night shift.
This helps prepare your body and mind, whilst giving you an extra boost of energy in the early hours that evening.
It seems strange that exercising gives you energy later on, but it's true! If I skip this workout because I was lazy, I feel like the ultimate slug at 4am.
So before your shift starts, put on that activewear and get going!
Now here's the real kicker. Provide yourself a body clock booster and do your workout outside!
Do you know what night shift workers lack compared to those awake during the day? The Sun.
So complete your exercise routine outside in the sunshine instead of the stuffy gym. It's not only great for vitamin D levels but it also helps reset your body clock providing better sleep later on.
Exercising during a run of night shifts
We get this question asked a plenty, so we've decided to answer it here. When in your run of night shifts, we recommend exercising soon after waking. Be prepared with your exercise gear – have it out and ready to go by the door so it's one less decision you need to make.
Exercise will do wonders to kick-start your metabolism, help your waistline and give you energy throughout the shift.
If you want a high intensity workout, that doesn't require you to leave the house and can be completed outside (remember vitamin D), try jumping rope.
It has become a household favorite here, because it's quick but really gets that heart rate up! Plus, you can take it on the road to your shift work job too.
You'll hate me for suggesting this when you're 2 minutes in, but stick with it. The thanks can come later!
If you're interested in buying a rope, check out our shift work tools page here for two ropes we recommend.
But what about exercise in the morning AFTER a night shift?
It seems crazy but it can actually enhance your sleep and not hinder it… Check out the post we recently wrote about exercising after a night shift here.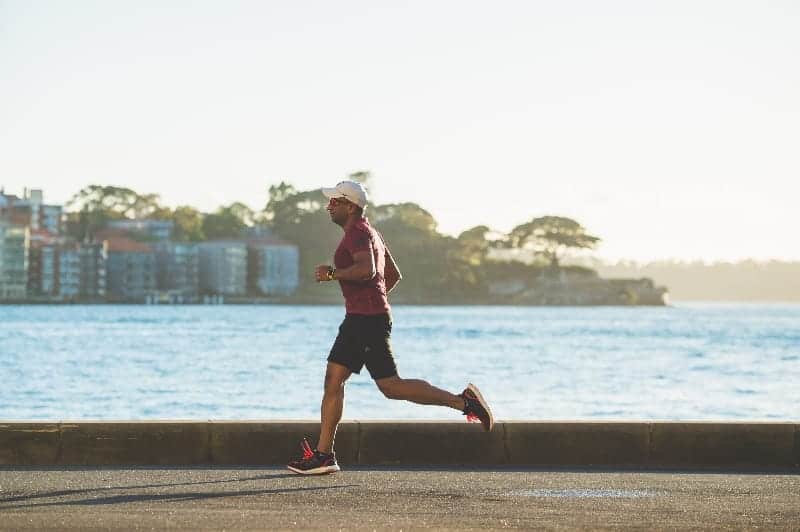 Take a nap
This section comes into play if you weren't able to complete the sleep cycle detailed in the lead up before your first shift.
I recently found out something really interesting but incredibly frightening.
Being awake between 17-19 hours is the same as having a 0.05 alcohol reading. That's right, you're basically drunk! (source). Who has driven home after their 1st night shift, without having an afternoon nap the day before? I'm assuming pretty much everybody.
Studies have shown we actually start to hallucinate without sleep after a short period of time!
Even the Guinness World Records is no longer considers any attempt at sleep deprivation as it is deemed too dangerous! (source)
Have you got your eye mask ready? Head to the Swanwick Sleep website here

and get yours now.
So… make this nap a priority above everything else you do prior to your shift, if you will exceed 17-19 hours straight being awake.
Even if it's just resting and you don't actually fall into a deep sleep, it is still very effective.
Find out more about napping like a true pro here or watch the video below.
Prepare for Night Shifts: A Few Hours Before Your Shift
Prepare your bedroom
Nobody likes coming home to an unmade bed or messy bedroom! So if you've awoken from your daytime nap or forgot to make your bed when you woke today, do it now!
Also spend some time clearing away dirty washing, adjust what's on your bedside table, put some new linen on the bed if it's old and make the environment conducive to daytime sleep.
If you are new to working nights, then we put together a great article which will tell you exactly what you need: Shift Work Bedroom Ideas: Preparing the Ultimate Shift Work Oasis
Lastly, you might need some help sleeping when your body is getting accustomed to doing so during the day. Sleep aids form a part of most shift workers lives and we've always tried to stick to those deemed natural and safe. Here's a list that we'd recommend you use. Also check out the glasses below which is our #1 sleep air recommendation.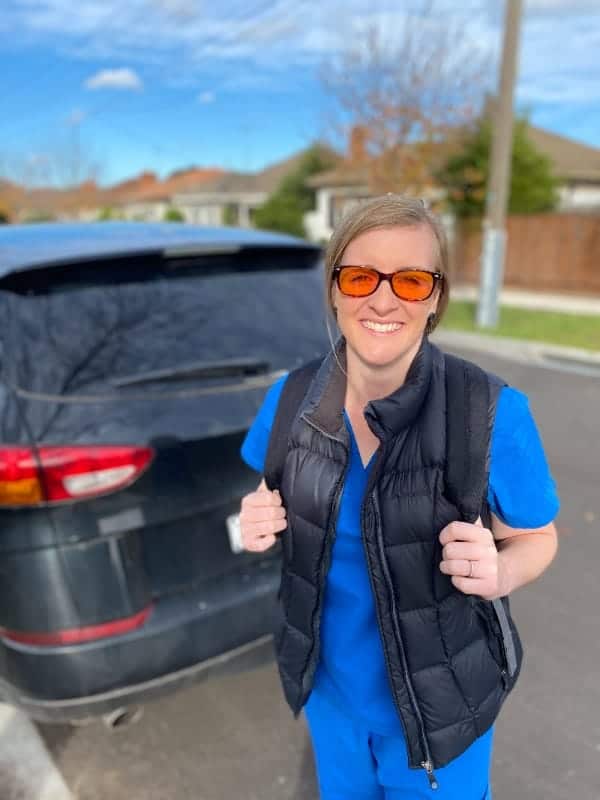 Have these in your room, ready to use, so that you don't need to get out of bed and start searching should you wake up. As always, use only as needed and seek a medical professionals advice should you have trouble sleeping.
Eat your biggest meal
Is it dinner or breakfast? Does it really matter what it's called?
The key thing here is what you eat. Preparing your body for what will be a transition to night shift starts now. So when it comes to understanding what and when to eat working nights, we've written an entire article on it here.
But to provide you with a brief understanding, the key here is having your largest, energy-sustaining meal before commencing the shift and then having more "digestive friendly" smaller meals/snacks whilst working overnight when your digestive system slows down.
When considering what to eat at this time, carbohydrates are ok as the body can digest them. We still suggest limiting these, to avoid feeling lethargic or sluggish. Meats, fish, vegetables, salads or a combination of them are great and no takeout for the obvious reasons.
If you've prepared food as we've suggested earlier, then this shouldn't be an issue!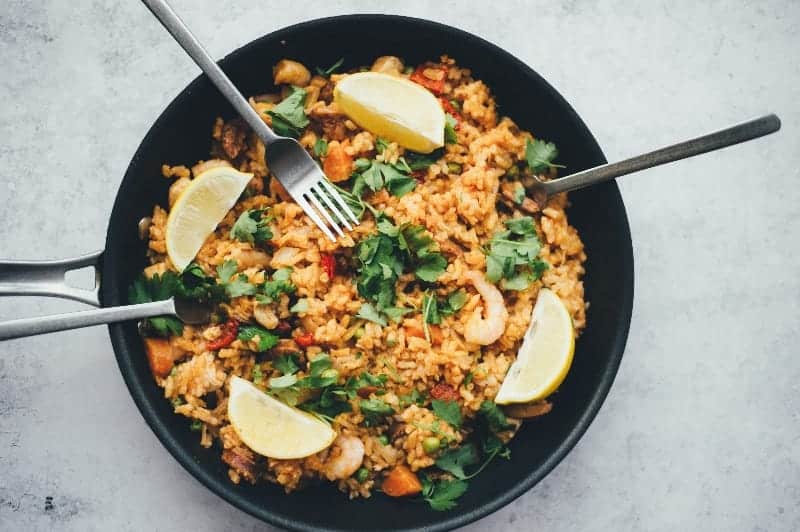 Prepare for Night Shifts: After Your Night Shift
Sleep now or later?
Do you go straight to bed and prepare when you wake? Or do you exercise, wind down and prepare for the next shift now, so that when you wake from your slumber you're good to eat and go.
Firstly, don't get trapped simply eating, sleeping and working… We have been sucked into this space many times before and it's gloomy and miserable.
However, you decide to structure your time at home, make sure you include preparation within it.
If you decide to stay awake a little longer and "wind down", you need to include your preparation for the night shift tonight in this period. Is your uniform ready? Is dinner defrosted? Have you packed your bag? Have you organised everything that's required for the next shift?
If you decide to sleep straight away, still prepare your workout clothes, meal to eat when waking and see if you can provide yourself with enough day light time to get some sun. It'll wake you up much quicker if those rays hit your skin!
VIDEO – The Only Thing Night Shift Workers Can Do Better
[INFOGRAPHIC] – How to Work the Night Shift and Stay Health
Save and share with your fellow night shift working friends!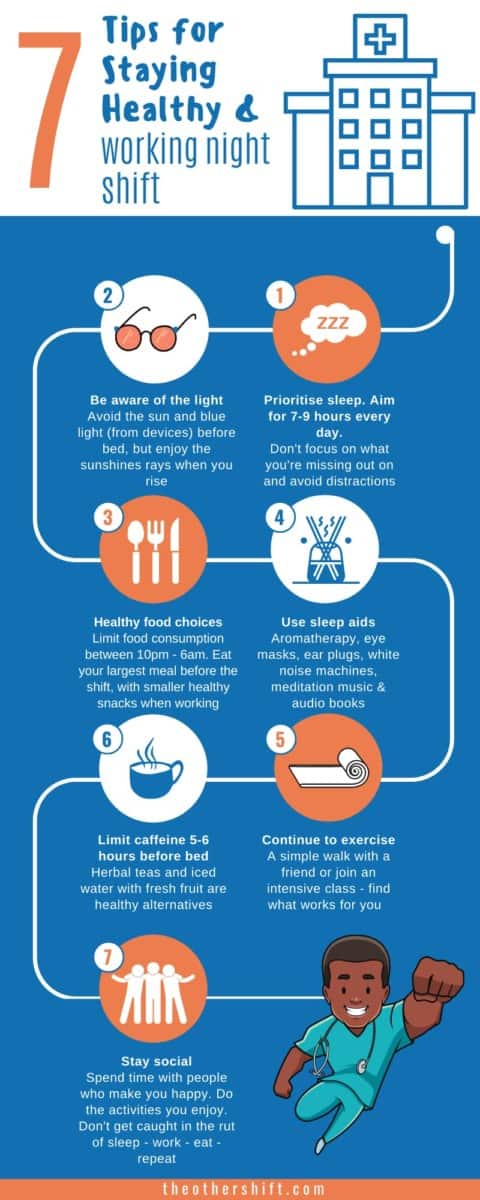 Summary: The Best Way To Prepare For Night Shifts
There is a reason why Steve Jobs wore the same long-sleeved black t-shirt and jeans every day.
You are not running a corporation like Apple, but when you have less time awake, you need to structure your days to maximize time.
Preparing for night shifts doesn't have to be difficult and will provide you with the availability you didn't think possible to do what you enjoy.
Follow our formula and night shifts will be much more enjoyable for you and those around you!
Cheers,

Disclosure: This page may contain affiliate links, meaning we receive a commission if you decide to make a purchase through our links, but this is at no additional cost to you. Please read our disclosure and privacy statement for more info.
Recent Posts