Disclosure: This page may contain affiliate links, meaning we receive a commission if you decide to make a purchase through our links, but this is at no additional cost to you. Please read our disclosure and privacy statement for more info.
I have tried an abundance of green juice products over the last few years in the hope to boost my immunity, eliminate brain fog, help me sleep and basically increase my overall health and wellbeing. Life a shift worker can be rough ya'll! But almost all of the products I trialed either included hidden amounts of ingredients or incorporated things that left me simply perplexed, aghhh metal!?
SuperGreen TONIK is an exception. From taste to transparency it's earned a place in my morning routine and this review will tell you why.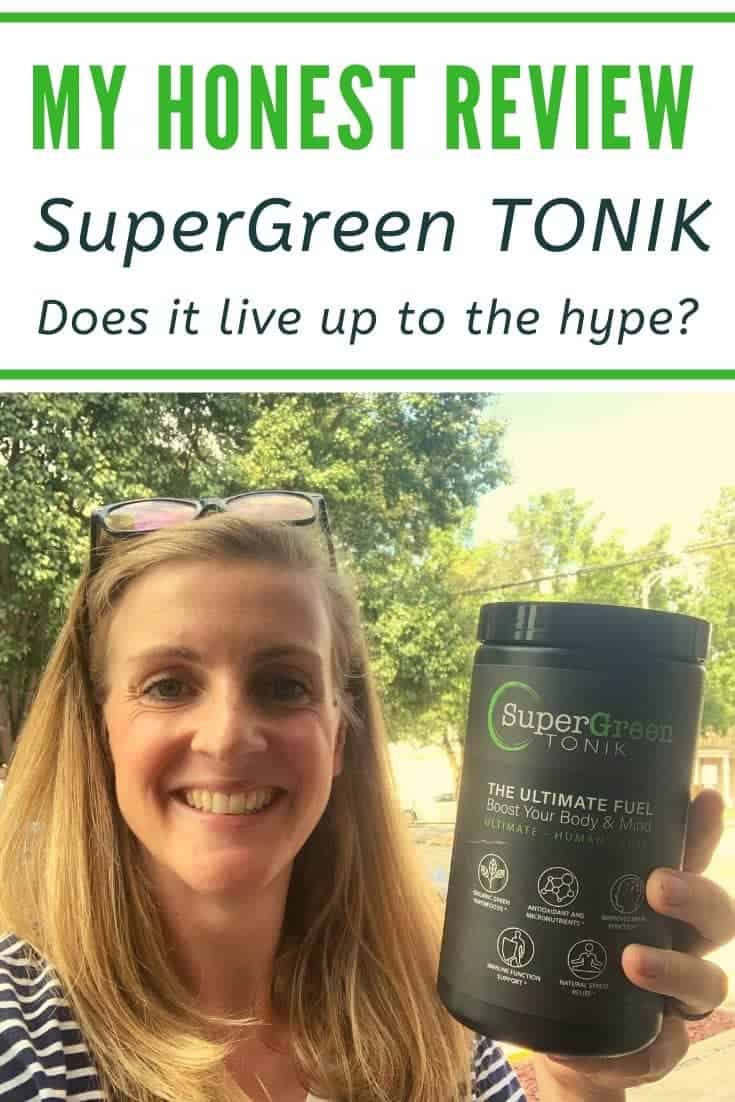 My SuperGreen TONIK Review
Positives
Taste. It's minty but not overpowering thanks to the right amount of Stevia.
Vegan friendly as of Jan 2021 after the removal of L-Tyrosine
Texture. Once stirred you cannot feel pulp or residue in your mouth (unless you didn't mix in enough water).
Dairy and soy free. No artificial colors, artificial flavors, artificial preservatives, artificial sweeteners, and no added sugar.
Made from organic ingredients. I don't have to search for strange, unnecessary components.
Included nootropic brain ingredients which makes it stand out from the crowd.
No side effects besides making me need to pee more!
The company cares about the customer and their outcome. They also kindly donate $1 of every sale to Vitamin Angles who support mothers and children under five at risk of malnutrition.
365 day money back guarantee…which is abnormally long but excellent for us!
Premium, professional looking tub with a full 30 day supply inside – you won't be short changed
Free shipping within the USA
Areas To Improve
Can only purchase in USD
No travel size available making freezer storage difficult on the road
Looking on Amazon? You won't find it. You can only purchase through the SuperGreen TONIK website.
Keep reading for a 10% discount code…
1 tub will cost $89 or 3 tubs at $74 each. There is also a full year, 365 days money-back guarantee.
[VIDEO] – If you'd prefer to watch our review rather than read it, check out the video below.
Why I Drink SuperGreen TONIK
I'm an Emergency nurse and as a shift worker, who also works nights, I often don't get the recommended amount of fruits and veggies in my diet, despite how hard I try.
Sometimes I just don't want to eat a cold salad at 3am or bite into an apple on my way home from a night shift.
SuperGreen TONIK "fills the gaps" in my diet where I might have come up short.
I find that I don't "catch a cold" or even need to take many (really… any) sick days due to feeling under weather.
But I don't think about green juice as a way to replace my fruits and veggies but rather to boost and enhance what I've eaten, plus give a bit more goodness.
As a nurse, I need the proper fuel to help me last 10+ hours shifts and SuperGreen TONIK is doing just that, and I actually enjoy drinking it.
As a back story. Last year I took a trip to New York City with some nursing girlfriends who introduced me to another brand of green juice, well before SuperGreen TONIK was on the market.
The aim, apparently, was the start our day with healthy minerals and vitamins to hopefully counteract the "tourist diet," fuel our bodies to see all the sights and keep our digestive system moving despite limited fiber.
But the issue was, I hated it and didn't feel any huge benefit.
Could it have been that I hadn't taken it for long enough? Possibly.
However, I persisted for the week, but every morning was torture for the three of us and our consumption became more like a skulling test at the pub.
Since that time in NYC, my interest in green juices exploded and I was busting to learn more to see if the effects were really all they claimed to be on the packaging. So I started using Organifi Green Juice (and a few others found on this round up) and did a bunch of reviews because I really liked the product. However, I wasn't happy with three things.
The taste wasn't that awesome – now really obvious in comparison to SuperGreen TONIK
The actual amount of ingredients provided was a mystery and this bothered me
My personal experience with their customer service team was negative
But I'm not hear to bag out Organifi. I simply want to explain why I now use SuperGreen TONIK instead.
So throughout the rest of this post, I want to tell you about my experience with green juice and why I can't recommend SuperGreen TONIK enough.
What is SuperGreen TONIK?
As this suggests, it's a green juice which is SUPER healthy and good for you.
It's a combination of 15 ingredients and 18 vitamins/minerals which have had all their water removed, forming a powder consistency.
What? Water removed?
Most fruits and veggies are made primarily of water, so in theory, when you remove this you're left with all the vitamins, minerals and antioxidants in a dry form.
So the idea here is that one scoop of SuperGreen TONIK can provide several servings of fruit and vegetables per day.
But that's not really the intention. Superfoods like SuperGreen TONIK are not a meal replacement but rather a way to supplement your daily nutritional intake.
As I said earlier, I think about green juice as a way of "filling the gaps" from what I may have missed regarding healthy fruits and veggies.
Who Produces SuperGreen TONIK?
The company was founded in late 2018 by Adam Wright.
A genuinely lovely dad of two kids, who I've had the pleasure of meeting over video calls (as we are on opposites side of the world).
Adam was a former competitive Triathlete with a BSc in Sports Science and has a strong knowledge and passion for health and supplements.
Yes, SuperGreen TONIK is not his first rodeo. Adam has used his previous knowledge of producing supplements to create a better product he is super proud to produce and take himself daily.
He said to me that he becomes really frustrated when green juice companies list their ingredients but never say how much is actually included. So transparency is a big sticking point for him and it's obvious.
"A big deal for us was to ensure fully transparent labelling and full disclosure of the ingredients and importantly THEIR AMOUNTS"

Lifehacker guy – Adam Wright
But where did the idea come from?
Adam suffered from Chronic Fatigue Syndrome for 25 years, potentially as a result of overtraining and struggled to find a natural way to help treat his symptoms. So he decided to produce something on his own.
Hello SuperGreen TONIK!
What I like about Adam is he is constantly seeking advice and feedback from users, including myself, to perfect his product. Not many other companies are willing to make changes, after all the marketing is complete, just to please their customers.
Key points:
Company established in Oct/Nov 2018 by Adam Wright
Manufactured in the USA
Produced in response to personal experience with Chronic Fatigue Syndrome
Reputable company with incredible customer support
1-year money-back guarantee
What You're Getting with SuperGreen TONIK
Each 12 g serving of SuperGreen TONIK provides:
40 calories per serving
3g protein per serving
2g fiber per serving
1g sugar per serving
SuperGreen TONIK Ingredients:
SiperGreen TONIK contains 15 ingredients and 18 vitamins/minerals.
What's cool about this product is that every ingredient is included in its optimal dosage rather than just a list with a "range", forcing the reader to guess how much of each ingredient is actually included.
Remember how I mentioned that transparency thing?
The SuperGreen TONIK formula contains three blends (Organic Greens Blend, Nootropic/brain Blend, Immune blend) and all the main vitamins/minerals.
The main ingredients are focused on the first page of the SuperGreen TONIK website, but you can click through to see the other ingredients at the bottom of the page.
Below I have outlined the "main ingredients" then listed what else you'll find inside.
Spirulina
What is it? Spirulina is a blue-green algae that has made a name for itself as one of the best superfoods around. NASA, in particular, helped advance its popularity by successfully using it as a dietary supplement for astronauts on space missions. (source)
What does Spirulina do? It helps fight nasty free radicals in the body which according to Medical News Today are "linked to aging and a host of diseases." Spirulina has impressive anti-inflammatory properties and may also help lower blood sugar levels.
Chlorella
What is it? Chlorella is a "freshwater green algae that contains various nutrients such as carotenes, protein, fiber, vitamins, minerals and chlorophyll". (source) It's normally well tolerated but for some people, it can cause nausea, diarrhea, abdominal cramping and even green poo!
What does Chlorella do? It gives us a great source of several vitamins, minerals and antioxidants. (source) Some research says it can also help remove toxins out of your body and improve cholesterol levels. Interestingly, according to the SuperGreen TONIK website, it helps remove heavy metals and other harmful compounds from the body too.
Organic Moringa Oleifera
What is it? A plant from the Moringacea family found mainly in Asia and Africa. If you're looking for a huge, natural vitamin and mineral hit this is your plant. (source)
What does Moringa Oleifera do? There is strong evidence that Moringa Oleifera is beneficial for hypercholesterolemia, high blood pressure, diabetes, insulin resistance, non-alcoholic liver disease, cancer and overall inflammation. Moringa Oleifera also plays a role in repairing broken cells as a result on injury and infection. (source)
Ashwagandha Root Extract
What is it? I like to think of this powerful, medicinal herb as the "anti-stress" ingredient which is perfect for me as an ER nurse!
What does Ashwagandha Root Extract do? It helps boosts cognitive performance, lower cortisol (our stress hormone) and significantly reduce anxiety and insomnia. (source)
"…it has anti-inflammatory and anti-arthritic agent and was found useful in clinical cases of Rheumatoid and Osteoarthritis".

(source)
Rhodiola Rosea
What is it? It's a plant also known as golden root, which grows in the chilly, mountainous regions of Europe and Asia. According to Healthline, it's considered "adaptogens" which means it helps your body deal with stress.
What does Rhodiola Rosea do? It helps you overcome feelings of fatigue and improve performance (source) and has even been an effective treatment for Chronic Fatigue Syndrome (source).
Remaining ingredients:
ORGANIC Greens Blend (7,500mg)
Kale Leaf Powder (2,000 mg)
Spirulina Powder (2,000 mg)
Spinach Leaf Powder (1,000 mg)
Barley Grass Powder (1,000 mg)
Chorella (1,000 mg)
Horseradish (Moringa) Leaf Powder (500 mg)
Brain Blend (1,800mg)
Ashwagandha Root Extract (500 mg)
Rhodiola Root Powder (300 mg)
Bacopa Leaf Powder (300 mg)
Ginkgo Leaf Powder (250 mg)
L-Theanine (250 mg)
L-Tyrosine (240 mg) Removed in 2021 to make the formula vegan friendly as this was produced from duck feathers 🙂
Immune Blend (1,000mg)
Dandelion Leaf Extract (500 mg)
Garlic Bulb Extract (250 mg)
Olive Leaf Extract (250 mg)
Vitamins / Minerals
Stevia Leaf Extract (100mg)
My Experience with SuperGreen TONIK
On the SuperGreen TONIK website, the product claims to:
Improve mental clarity and brain function
Provide an Antioxidant and micronutrient boost
Enhance immune function and support
Be a natural stress reliever enabling you to feel more relaxed
Provide long-lasting energy
Increase your overall wellbeing
But did I notice any difference? Most of the time, I'd answer yes.
Did I leap out bed, do 100 push-ups then run around the block for an hour without breaking into a sweat? No. But I did experience many other benefits so let me explain them.
My ability to concentrate for longer was obvious and probably the biggest difference I noticed. I am able to have fewer breaks and just get the job done, even if the task was challenging.
I experienced less energy dips and brain fog, particularly when concentrating hard on something new.
This could just be me talking rubbish, but I seemed to have a greater ability to remember things. Is this nuts? At times I was forgetting names, places and things I was doing, even a few minutes ago, but my retention seems to be better. Not 100%… but better.
I generally don't, touch wood, get sick very often so I haven't noticed a shift here. However, I am getting fewer pimples and acne, particularly around that time of the month so maybe that's something? Plus, if Dan's sick and I feel like I could "come down with something" I don't.
I honestly feel great and my digestive system is humming along nicely.
I am able to sleep soundly throughout the night, without waking. However, sleep hasn't really been an issue for me in the past. It can take much longer to wind down when I'm in an unfamiliar environment or on night shift. However, I noticed since taking SuperGreen TONIK and when traveling for work, staying in hotel after hotel, I was still sleeping well despite the environment.
How I Like to Drink SuperGreen TONIK
I know this may seem a little sissy, but I like to drink my juice in a big, can't see into it cup with lots of ice.
It's not because I don't like the taste, far from it actually, I just believe the ice enhances the flavor!
And as for the cup, not being able to see into it "surprises" my taste buds every sip rather than a preconceived idea of what it's going to taste like due to the color.
In the beginning, I was using the glass below, but now I like to either use my BEAST tumbler or the Houston Rockets cup we received when we went to a game last year. It also holds more water which helps drink the recommended amount a day!
If drinking minty flavored drinks isn't your cup of tea try adding it into your fruit drink, mixing it with coconut water or even into a smoothy. I don't do this but I've heard it's pretty good!
When is it recommended you drink it?

There is no hard and fast rules here but I like to take it in the morning after breakfast or just after lunch around 1pm. If on night shift I drink it around 1am.
Related Post: What Should I Drink on Night Shift? 10 Energy Boosting Beverages
Store your SuperGreen TONIK container in the fridge and consume within three months of opening.
Why SuperGreen TONIK is Perfect for Busy People
I hate the cheesy line of, "transform your life in just 30 seconds a day" used by Adam on the SuperGreen TONIK website, but in all honesty, it's kind of true.
Just scoop, stir and drink… and you're done. No juicing or blender required.
I am often running to the supermarket after a late/2nd shift at 10.30pm to prepare something healthy for my lunchbox the following day.
Chopping veggies and fruits at this time of night is a hazard as I'm exhausted and need to go to bed before I cut my fingers off. But now I don't need to worry.
Moms and dads often write into us regarding their shift work health, looking for ways to easily boost it when they have added time pressure and kids to consider.
I think SuperGreen TONIK, coupled with daily exercise (even a walk around the block) can really transform your life. Plus, it saves hours in juicing!
Remember this product can only be purchased via the SuperGreen TONIK website
** Update 2022- New packaging and Berry Favour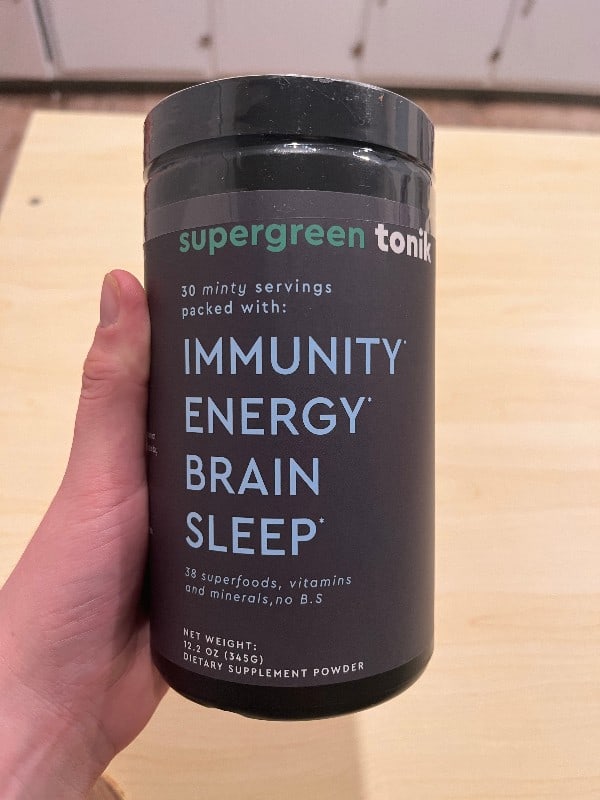 Summary: SuperGreen TONIK Review
I have tried a bunch of green juices in the past and have found they either hide ingredients or shy away from telling you how much is actually in the container/packet leaving you constantly wondering.
I was never left questioning with SuperGreen TONIK.
It tastes good and so far it's living up to the advertised benefits.
It's much cheaper than medical bills too, forming just another reason I cannot recommend SuperGreen TONIK enough.
Cheers,

Disclosure: This page may contain affiliate links, meaning we receive a commission if you decide to make a purchase through our links, but this is at no additional cost to you. Please read our disclosure and privacy statement for more info.
Recent Content