Disclosure: This page may contain affiliate links, meaning we receive a commission if you decide to make a purchase through our links, but this is at no additional cost to you. Please read our disclosure and privacy statement for more info.
Time's up night shift workers, you made it! The sun's out and it's finally time to go home! But what exactly are you supposed to do now the night shift is over?
What should I do after night shift?
Get home safely after a night shift
Be aware of the light
Develop and stick to a sleep routine
Charge your phone in a separate room to where you sleep
Keep clear of alcohol, caffeine and nicotine
Eat breakfast
Don't oversleep on your last night shift
Over the last 10 years, Dan and I have worked a combination of day and night shifts... and we're kinda tired… BUT, we have finally figured out what works best to our smart this night shift game!
To really take on and embrace our advice though, the next part takes some discipline and action on your end.
But don't be frightened because we have made it super easy!
Get Home Safely After Night Shift
How many times have you dangerously driven home post night shift, feeling unbelievably tired and exhausted? I know the feeling and also understand just how much you want to be horizontal in your own bed. But is it really worth endangering yourself and others?
Instead of winding down all your windows, eating constantly and having the music blaring, why not try:
Calling a friend on hands-free so you can keep two hands on the wheel
Utilizing public transport
Staying at a friends place if your commute is lengthy
Pulling over for a 20-minute power nap if you need to. This works wonders!
Taking a taxi or ride-sharing service to get you home safely
We have actually written an entire post about this and we highly recommend you check it out here.
---
Be Aware of the Light After Night Shift
You want to sleep after a night shift, right? Well, your body has other ideas and thinks you want to stay awake, due to the light from the sun, devices and TV. Doh!
The light stimuli heavily influence your sleep hormones such as melatonin, making it very difficult to sleep. Read The Easiest Way to Get Better Sleep as a Shift Worker if you want to know more details.
Solutions:
Our tip is to keep them on right until you close your eyes to sleep. Want more information about this? We have written a couple of posts worth checking out: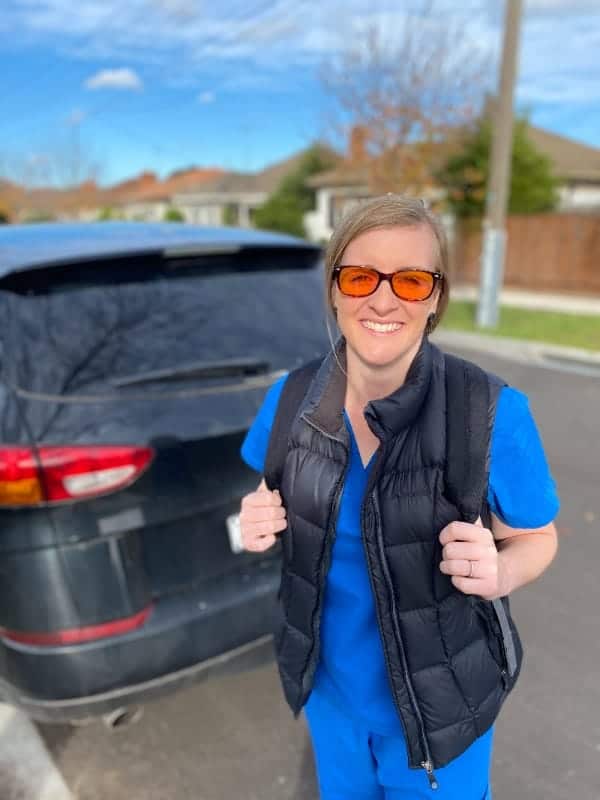 ---
Develop and Stick to a Sleep Routine Whilst Working Night Shift
Go to sleep within 30 minutes to an hour of getting home (if possible) to get the 7 -9 hours of sleep you need and deserve.
Developing a consistent sleeping pattern allows your brain enter a relaxed state and aids in a better nights sleep.
Obviously, parent responsibilities can't wait, but finishing a Netflix series or doing housework can wait till you get up.
Some people still like to "wind down", so here are some examples of activities that will take your mind away from work whilst also helping your sleep cycle.
Suggestions:
How to Establish a Conducive Sleep Environment
---
Start Charging Your Phone in a Separate Room to Where You Sleep
Let your brain relax and prepare for sleep, rather than on funny animal videos or sports highlights.
If you need your phone to organize kids and important things, change the setting on your device to enable night mode. Read more here – Activating Night Shift Mode Actually Leads to Better Sleep.
Resist watching TV or using your devices just prior to sleep
Try reading a Kindle or e-reader such as the Kindle Paperwhite as the blue light is constructed differently than your phone and is much more friendly on your eyes.
---
Keep Clear of Alcohol, Caffeine, and Nicotine After Night Shift
I know I sound like the fun police and I hate to ruin a party, but alcohol, caffeine, and nicotine should be avoided after night shift. You can read more about it here.
Alcohol will disrupt your sleep pattern and force you to need the bathroom (a lot!) throughout the night and caffeine and nicotine will make falling to sleep almost impossible.
Instead, try these beverages when you get home:

---
(At Least Try) Eating Breakfast After Night Shift
Nobody likes a rumbling stomach when lying in bed, so make sure you eat before but choose wisely.
Some night shift workers enjoy a traditional dinner when they get home, whilst others prefer breakfast. Personally, I like porridge with banana and honey as it keeps me nice and full until I get up.
My key tip here is don't overindulge! A bloated stomach can be just as uncomfortable as an empty one.
On a side note, if you're looking to lose weight on night shift, have you considered the Keto diet? If you're interested to see what all the hype is about, check out our post here.
---
Set an Alarm to Not Oversleep on Your Last Night Shift
This is a bonus tip which we have written an entire post about. Read more here – how to quickly switch from night shift to day shift.
When you get home from your last night shift you have two options.
Option 1: Don't sleep at all when you get home. Keep yourself busy all day and go to bed early that night. I can't do this method, but friends swear by it, in order to get back on day schedule.
Option 2: Set your alarm 3-4 hours earlier than normal and get out of bed. It's extremely tough to get up if you are familiar with this, like really tough, so make sure you book something in advance like:
The hairdresser
Dentist
Beauty treatment
Do your jobs such as visiting the bank and post office, pick up your dry cleaning or go to the grocery store.
Catching up with a friend
Whatever you do, get up, leave the house and lessen the temptation to fall back asleep.
---
Next…
---
Summary: What Should I Do After Night Shift? Secrets to Best Routine
Looking after yourself and ensuring you stick to a routine are secrets to the perfect post night shift routine.
Have some fun trialing my suggestions that assist in relaxation and sleep until you find the perfect package that works for you.
If you missed the previous two steps involved in the night shift process, click on the image below for either the preparation stage or completing the night shift. You will find them mighty useful!
I'd love to hear your thoughts on our post night shift routine. Please feel free to leave me a comment below the article!
Cheers,

Disclosure: This page may contain affiliate links, meaning we receive a commission if you decide to make a purchase through our links, but this is at no additional cost to you. Please read our disclosure and privacy statement for more info.
Recent Posts