Emma
A registered nurse and Clinical Nurse Specialist (CNS) who graduated from nursing school in 2010.
I have spent the majority of the last decade working in one of Victoria's largest trauma centers. I've embraced the pressures of helping critical care patients while battling a rotating roster which as you can imagine is never dull!
Whilst working as a CNS I also held the position of Assisted Nurse Unit Manager (ANUM) to further develop my leadership skills and broaden my perspective of how the health system works together.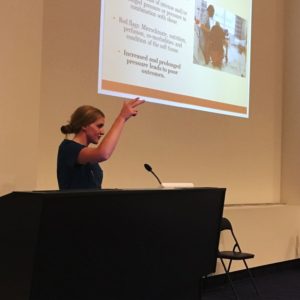 Despite working in the Emergency Department from 2013, I also pick up the odd agency shift, as a means of keeping my ear to the ground regarding the rigors of being called into work at a moment's notice.
If you've ever done agency nursing you'd agree it can be a tough business! What other job expects you to immediately adapt to a new place and perform highly, with very little if any orientation?
I've also pushed myself out of the comforts of the ER (I know how totally ridiculous that sounds for some) and held positions as a nursing home supervisor and nursed at a doctor's clinic.
It's safe to say, I'm pretty well rounded when it comes to shift work. But in saying that, I'm still keen to learn anything which can make shift work easier!
If I forget about nursing for a second, I'm a true lover of water skiing, basketball, food (of any kind!) and all things chocolate.
Qualifications
Registered Nurse – Divison One
Clinical Certificate in Emergency Nursing
Clinical Nurse Specialist (CNS)
IV cannulation ninja on a good day
Assisted Nurse Unit Manager (ANUM)
Clinical Nurse Educator (CNS)
Wound Resource Nurse (WReN)
Ability to sleep anywhere!
Check me out on Linkedin

Daniel
He's a sports enthusiast – a self-proclaimed 'sports nerd!'
He found his ideal job working for a sports technology company, communicating with customers from around the globe.
If only the world all operated on the same time zone, his job wouldn't require calls in the middle of the night, early morning or well after dinner of an evening!
He is obsessed with Australian Rules Football (AFL) and the Hawthorn Football Club, white chocolate and Swanwick's Blue Light Blocking Glasses.
He's an incredible listener of my never-ending nursing stories, despite not having a clue about healthcare! He also reminds me of what's important in life, when everything gets a little nuts.
Dan rightly looks after all the tech-savvy aspects of this blog, as I didn't learn any of this in nursing school! Without his help, this site would be a total mess.
Qualifications
Masters in Business Management
Diploma of Sport and Recreation
Sports statistic mastermind
Certificate 4 in Sports Administration
Certificate 3 in Sports Administration
Check Dan out via his Linkedin page

Together we make it work and we're having a TON of fun along on the way!
Constantly learning from mistakes but remembering to laugh and not take ourselves too seriously.
This is a photo of us taken at our 'going away party', before heading off to the big US of A for an extended period!
Our lives journey has a mixture of newly found culture, discovery, friends and a schedule that never quite seems to fit or make sense.
Read more about why we started The Other Shift here.
For media inquiries, click here.