Disclosure: This page may contain affiliate links, meaning we receive a commission if you decide to make a purchase through our links, but this is at no additional cost to you. Please read our disclosure and privacy statement for more info.
Shift workers, are you looking for a new, inexpensive remedy that can brighten your skin, help digestion and assist you losing weight?
The solution is most likely staring at you from the fruit bowl or hanging from the trees outside.
The answer is, Lemons!
The trusty lemon is packed with nutrients and offers numerous health benefits like weight loss and aiding inflammatory diseases.
Dan swears by adding some lemon juice into his water, particularly waking up after night shift, because it gives him the kick-start he needs.
Similarly, health professions, athletic coaches and celebrities all claim it's the perfect start to your day.
Health Benefits of Lemon Water for Shift Workers
If you're feeling a little "sour" about this idea, here is a snapshot of the health benefits of adding lemon to your water.
Lemons are an excellent source of vitamin C which helps keep your skin glowing even after working a late/early shift
Lemons are full of nutrients that help maintain strong bones and improve your heart and muscle function.
Lemons help inflammation issues like gout by reducing the amount of uric acid present in the joints, allowing us to complete the entire shift pain-free.
Lemons help fight infections like the common cold, which is perfect for preserving our sick leave allowance.
Lemons can help you lose weight by playing sneaky tricks on your liver and gallbladder by appearing like stomach juices which increases bile production and fat breakdown.
Lemons help lower hormones such as cortisol, which controls hunger and fat storage.
Lastly, lemons help prevent constipation and diarrhea by assisting the food and toxins to move effectively through your digestive system. This will also relieve that horrible feeling of indigestion that plays havoc commonly on a night shift.
This incredible citrus fruit does pack a punch and ticks all the right boxes for assisting us shift workers in maintaining better health and avoiding common illnesses.
For all of you preferred video learners out there, here is a video of this topic (plus some personal extra tips from Dan!) from our Youtube Channel below.
For more free shift working tips and tricks from us, make sure to subscribe to our Youtube channel!
---
Lemon and Shift Worker FAQ's
Use the bottled lemon water or squeeze the real thing?
Despite the bottled lemon juice being easy and convenient, squeezing the real thing is much better for you. Choose ones with thinner skin which are bright yellow in color.
If the lemon is still a touch green, it's not ripe yet. Try using the Zulay Premium Metal Lemon Lime Squeezer

to avoid those uncomfortable seeds getting stuck in your teeth.
How many lemons are recommended per day?
Using two whole lemons a day is ideal. One when you wake up, on an empty stomach and another throughout your shift will get you the full effect. Take it easy to begin with though, trying only one per day to limit the possible headaches.
Should I drink lemon water after exercise?
Yes, lemon juice helps replenish body salts, especially after a big workout session.
Is lemon juice bad for your teeth?
Yes, the citric acid found in lemons and also oranges, limes and grapefruit can, unfortunately, cause dental problems. By simply brushing your teeth regularly though, you shouldn't have a problem.
Should I drink it cold or hot?
Neither. Drinking it warm is best. It may not be refreshing but your body appreciates it. This will also lessen the sour taste.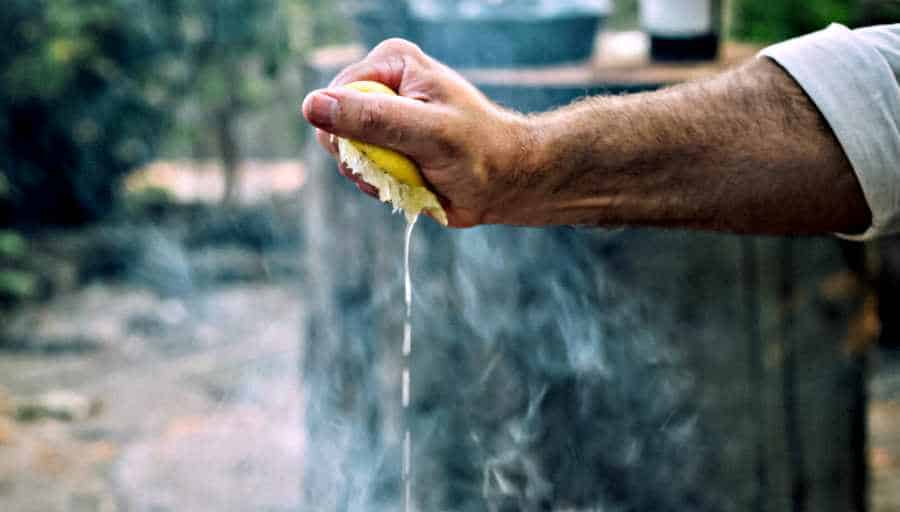 Better skin, smoother digestion, and weight loss – yes, please!
Lemon water really is the perfect solution for your health as a shift worker. Take it easy though and avoid potential headaches, fatigue and bowel changes due to the effect on the digestive system by drinking to excess.
Lemon water is bursting with health benefits, it's cheap and can help you consume the recommended amount of water per day, by simply changing the flavor.
We personally like to use an infuser style drink bottle where you can drop in the fruit and enjoy the flavor throughout the shift. The Live Infinitely Infuser Water Bottle

is perfect for this and we highly recommend it.
This week, add a bag of lemons to your grocery basket or pop down to local farmers market like us (cute date idea!) and see the incredible difference it can make in your life.
We would love you know how you went about adding lemon to your drink this morning.
Please comment below and subscribe to the email list.

Disclosure: This page may contain affiliate links, meaning we receive a commission if you decide to make a purchase through our links, but this is at no additional cost to you. Please read our disclosure and privacy statement for more info.
Recent Posts