This is a guest post from Matt at My Shift Planner who discusses the challenges of shift work and the importance of being in control of your roster.
He explores why using an app like My Shift Planner allows you to stay organized, minimize stress and live the life you want. Enjoy this delightful read.
Around the world, shift work is on the rise.
Nearly 15 percent of US employees are shift workers. From firefighters, nurses, and medical staff, to transport workers, warehouse, food, and retail assistants.
The list of shift workers is endless, and the number of people working non-traditional hours just keeps increasing.
The Challenge of Shift Work
The challenge for all shift workers is to figure out how to manage working outside normal hours, alongside maintaining a family and social life. Staying energized on the job is a full-time job in itself!
Especially when shift workers are documented to suffer more health and mental wellbeing issues than "normal hour" workers.
Being on shift work, especially the night shift, disrupts the daily cycle and body clock.
It leads to high blood pressure, heart disease, and many other health problems.
But that's not all.
Shift work is also isolating.
Working non-traditional hours creates a huge challenge for shift workers when it comes to keeping up with friends and social commitments, let alone maintaining a healthy family life.
---
Managing Your Shift Work Life
The advice that's often thrown out to shift workers is that they need to take a "right approach" to their wellbeing. This usually involves advice to maximize sleep, eat healthily and don't snack, and prioritize the days they have off.
It's easy to say these things. But when you're living right in the middle of shift work it's no mean feat to keep it all up. Shift workers struggle to feel in control.
They need help to manage social activities and family life, as well finding the time to stay healthy and have the space for relaxation.
It was to provide some of this help that we first built the My Shift Planner app, five years ago.
---
The Importance of Control
People like to feel that we are in control of their lives. The most common reason workers in any industry feeling unmotivated and disengaged from their work is a feeling of not being in control.
For shift workers, this feeling of lack of control is common.
Shift workers routinely feel like slaves to their shift schedule, with no sense that they have any control over their working lives.
Building a shift worker app, for us at My Buzz Technologies, meant giving shift workers control through immediate and instantaneous access to their individual shift rosters and shift work schedules.
By always being able to know and access their shift roster, shift workers can plan their time off more effectively, plan way ahead, and make the most of the spaces in their calendars.
A Personal App, Built Directly for a Shift Worker
The My Shift Planner app was built with all of this in mind. Because it was built directly for a shift worker.
Chris, the CEO of My Buzz Technologies, was initially trying to help his brother-in-law, who worked shifts at a nearby international airport.
He wanted to put his simple 4-on-4-off shift work schedule into his phone calendar, but realized very soon that phone calendars are just not set up to handle work schedules like this.
Chris built the first version of My Shift Planner and put it on the App Store as a Christmas gift for his brother-in-law.
Within three months there had been 10,000 downloads.
Fast forward five years, and we have nearly 250,000 daily active users, from almost every industry, all over the world.
We've changed the app a lot over the years. We've added new features and tried to make it as customizable and user-friendly as possible.
We pride ourselves that there are almost no shift rosters the app can't handle, and if we find an area of shift work we don't currently look after, we will do our best to upgrade the app to help.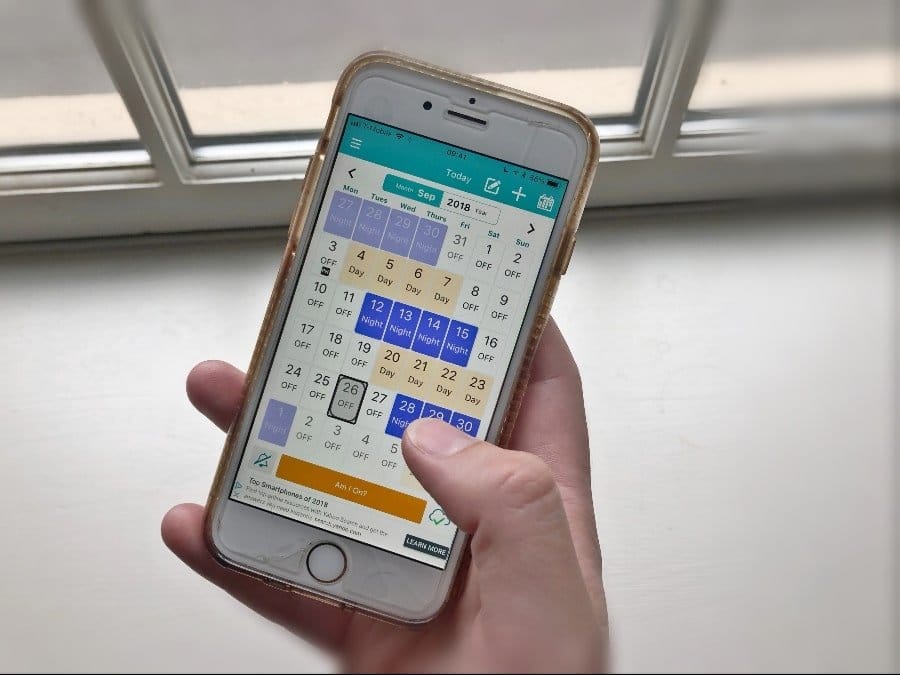 ---
Staying in Control of Shift Work
There's a huge challenge for shift workers to keep up all their commitments. People who work normal hours don't always understand that shift workers still need to sleep between/after work shifts and don't always have the entire day free to do whatever they like.
Being able to check your work schedule and have your roster to hand before making plans gives shift workers back control.
We pride ourselves that My Shift Planner allows shift workers to do just that and we've had some incredible stories from our users about this over the years. Including one, who will remain nameless, who emailed our support team to tell us how we'd helped to save his marriage!
He and his wife both worked shifts, and had reached a stage of barely being ships that pass in the night. They both downloaded the app, and shared their calendars. By being able to see each other's shift roster, through My Shift Planner, they were able to create time for each other and reconnect.
We were incredibly humbled that just by having their shift roster in their pockets they had regained control of their lives and their relationship.
---
Getting Advice from People Who Know Shift Work
Shift work isn't going away. In fact, it is going to increase as we head into a fully 24/7 society.
But our greatest learning in the last five years of working for shift workers is that no matter what your shift work you do, you're not alone.
There is a community of shift workers from all industries, all going through the same issues as you. That means there's lots of advice, tools, and assistance available to help shift workers manage their lives and gain control.
My Shift Planner is just one of those tools. Everything we do at My Shift Planner is to make shift workers' lives easier. We're proud to be helping so many shift workers every day. And we want to make being a shift worker and managing your shift roster as simple as possible.
So, we are always open to suggestions and always happy to bring in new features that shift workers need.
We also feature My Shift Planner in a recent post titled, 'Shift Planning: 10 Best Shift Work Calendar Apps to Keep You Organised' click the link to read the full article.
Recent Posts