Disclosure: This page may contain affiliate links, meaning we receive a commission if you decide to make a purchase through our links, but this is at no additional cost to you. Please read our disclosure and privacy statement for more info.
It is one of the most important tasks on a manager's to-do list, but it can also be one of the most time-consuming and frustrating — scheduling. Navigating employee requests, last-minute changes and overall workflow is hard enough. Selecting the right shift schedule for your employees is a crucial step in your business's success, and while it may be tempting to stick with the traditional 8-hour workday, are 8-hour shifts really better than 12?
Research doesn't provide a clear winner between 8 and 12 hour shifts. Both have positive impacts on ones physical health, work / life balance and productivity. The best shift timing comes down to a business' individual needs, the abilities and availability of the workforce and ultimately, true "buy-in" from employees.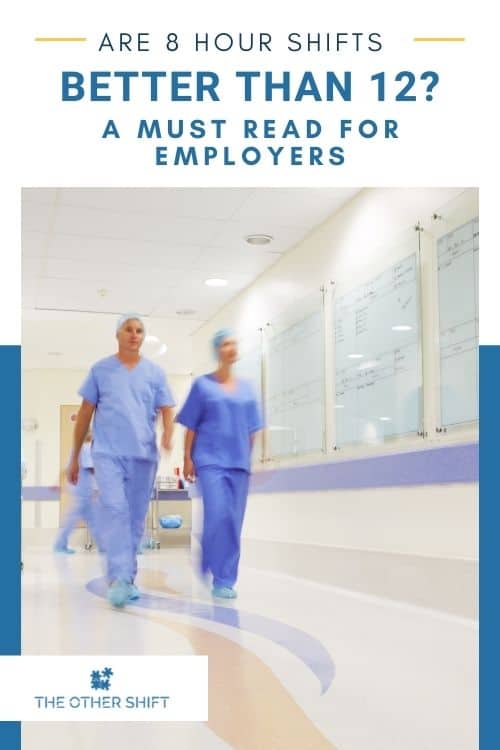 Several industries rely on 24/7 rostering. Some of the most common include nursing and healthcare, media, trucking and transportation, manufacturing, aviation and emergency services (i.e. police, fire, EMS, utilities). A survey by tech and consulting firm Circadian of 400 shift work operations showed companies were pretty evenly divided, with 34 percent using 8-hour shifts and 37 percent using 12-hour shifts. The remaining relied on some combination of the two, 10-hour shifts or "other" options.
So let us showcase the detail of both 8 and 12 hour shifts, so you can come to a decision on how to maximise your business operations and staff health and wellbeing.
The 8-Hour Shift
At its simplest, this schedule uses three shifts in a 24-hour period.
One team is permanently (but not in all cases) on the day shift, another on the swing shift and one will be working overnight. The below table is a sample "3-team fixed 8-hour shift schedule" from Business Management Systems, which specializes in employee scheduling software.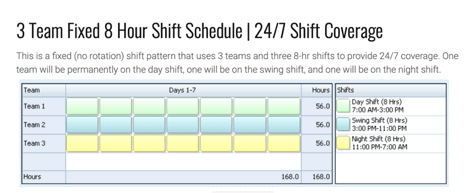 The day shift is listed as 7:00am to 3:00pm, the swing shift is 3:00pm to 11:00pm and night shift is 11:00pm to 7:00am. There are many, many variations when it comes to shift coverage, but we're keeping it simple here.
Why Businesses Like 8-Hour Shifts
There's a reason a large component of businesses globally structures their staff timing at the office to 8-hour intervals. We can easily break up the day into 3 equal parts and cover operations across 24 hours should we so wish.
However, there are other several key benefits to structuring operations this way. They consist of;
Longer rest period between shifts for staff, which can reduce the staff accident risk or number of errors completed when on the job.
2. Compared to longer shifts (10 or 12 hours), staff should have greater attention spans, reaction times, less blasé decision making and improved motor skills. A positive for you and the end consumer.
3. When operating smaller shift hours (4 or 6), this would allow you to reduce the number of employees you are scheduling, which can alleviate a negative transfer of information and up operational slowdowns, which typically result in a loss of productivity and revenue.
Related Post: Split Shifts – How Employers & Employees Can Both Benefit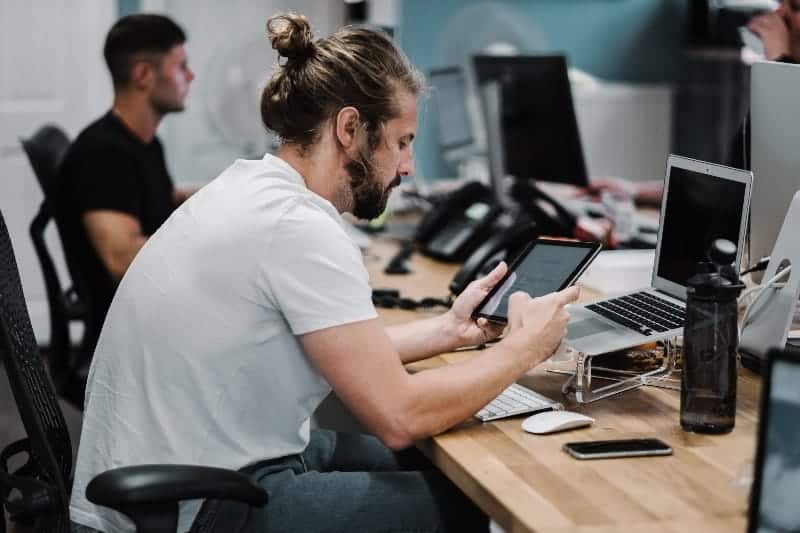 The Employee Perspective Regarding 8 Hour Shifts
We get it. As a business owner, you are always focused on maximizing business operations and in turn, the level of profits coming into the business. However, we are big believers in a happy workforce providing the utmost productivity and therefore resulting in great results in a number of areas for the business. So we need to showcase how employees may see an 8 hour roster.
Some suggest the biggest draws of an 8-hour shift for employees include;
A better work / life balance. I can accomplish things during the week like running errands or having two consecutive days off in a row (usually the weekend with the rest of the world).
Better sleep (unless you are on the overnight shift of course).
Less of a physical / mental toll brought on by extra long hours.
Working 5 days a week, 8 hours per shift allows for healthy routines to be established and carried out more effectively.
Being able to have the same days off as your partner or family is a way of maximizing quality time together.
However, there are some negatives associated with 8 hour shifts from those who've been completing this type of work for some time. They include;
If you don't enjoy your job or find it very stressful, you spend 5 days of your week at the workplace (if working full time).
You are working the same roster as most others, which can be a nightmare with getting to and from work.
A number of services are not available on the weekend, so working a traditional roster can be a negative when it comes to getting to those businesses.
Those with a family who are active in the community (plays sports, extra-curricular activities) find it hard to attend those events should they start in the early afternoon or morning.
[VIDEO] – Speaking of relationships the video below will give you a few ideas on how to keep the love alive.
The 12-Hour Roster
In the past, employers may have been more hesitant to introduce a 12-hour schedule over concerns regarding safety, productivity and impact on performance. However, a recent paper published by Circadian on the advantages and disadvantages of the 12-hour shift, shows increasing demand for this setup.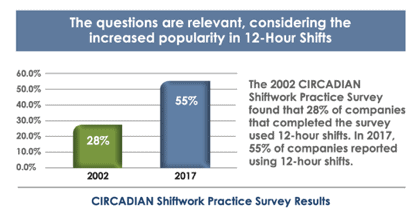 This shift schedule, at its simplest, uses two teams and two 12-hour shifts to provide 24/7 coverage. The below sample schedule from Business Management Solutions lays out sample day and night shift options, with one team working from 7:00am to 7:00pm and the other working the overnight from 7:00pm to 7:00am.

There are many variations of rotating and fixed shift scheduling options, but this is the most basic.
Why Employers Like 12-Hour Shifts
Some of the benefits of a 12-hour shift for businesses include;
increased productivity
reduced errors (with only two shift turnovers)
increased accountability
reduced adaptation time
more project completion
reduced absenteeism
lower turnover
better morale and more dedicated employees
In fact, there's an ongoing push for more industries to make the jump to the 12-hour roster, as seen in this article from Industry Week, highlighting the need for employers to consider more options in the manufacturing realm.
"Alternative shift schedules can dramatically improve your ability to utilize more hours in the week without sacrificing employee morale."

Industry Week, "The Death of the 8-hour Shift"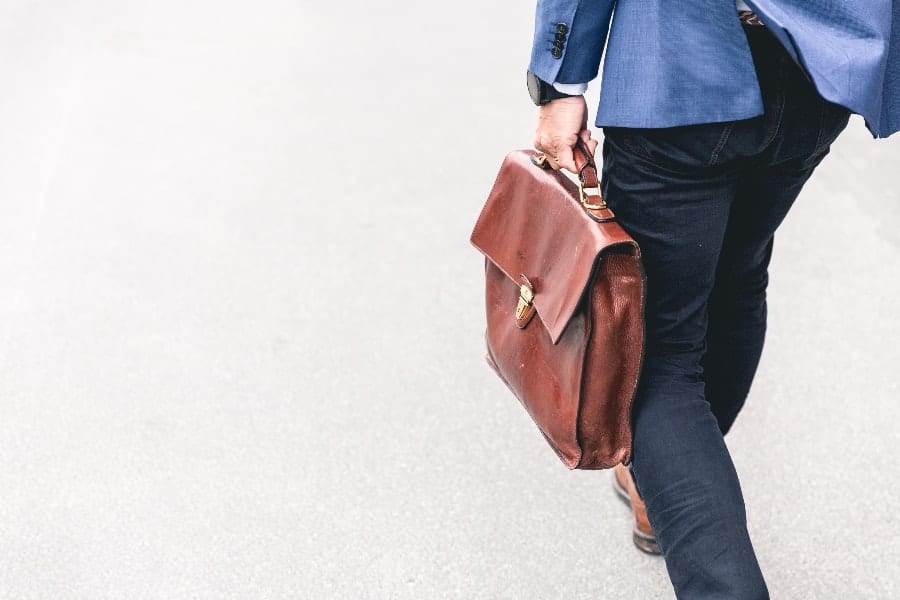 The Employee Perspective
One of the biggest concerns of a 12-hour shift is how it impacts an employee's physical/mental health and overall safety.
There are a number of critical care industries that employ 12-hour shifts (think nursing, healthcare, or emergency services) and any risks to overall patient care should be considered carefully. This is also no different to a warehouse owner wanting to maximize productivity with burnt-out staff – it just won't happen.
These are valid concerns and some studies do show an increased risk of errors or injury associated with a lack of sleep or exhaustion. Workers on a 12-hour shift do tend to get slightly less sleep than their 8-hour shift counterparts and the potential for burnout is higher given the chance those 12-hour days could become 13, 14, or 15 hours.
Managers need to take a hard look at their workforce to gauge these risks.
Still, there are advantages to these longer shifts. Some of the most common benefits of a 12-hour shift for employees include;
more days off
reduced time spent travelling to the office
longer and better quality breaks
fewer consecutive days worked
enhanced family and social life
better morale, more frequent recovery days
improved use of vacation time
Things to Consider
There are many factors to consider when choosing and implementing a shift schedule. Below is a summary of features for both the 8 and 12-hour shifts from Circadian: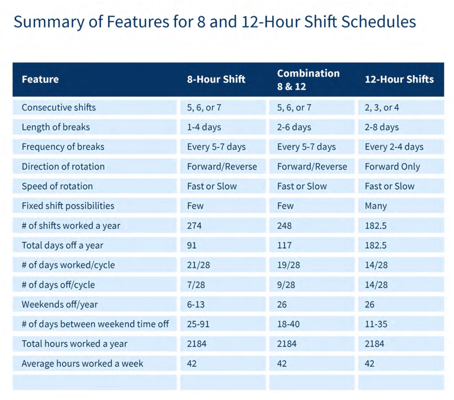 "The best preparation you can do for shift planning is to know your business inside and out. "
So we've now provided you with an overview of both rostering types, but what are the key factors within your business operations that you now need to consider when coming to that final decision?
Firstly, understand the mandatory business regulations for the industry you work, along with the state/country you operation the business within.
Then for an existing business, deeply analyze how your business currently functions; when does preparation need to be completed? When do you have the most customers? When do you want to be closed? It's worth looking at past performance / reviewing your business over multiple days of the week as this may differ throughout.
Lastly, what is your staff's skillset and abilities, along with their appetite for extended work? Most people don't like change, but if you go about implementing a new rostering system that alienates all existing staff members and they subsequently leave, the gains you thought would be received by the new hours could be offset with staff training and loss of productivity from new people taking time to learn the job in detail.
Related post: What Is a Good Shift to Work? Supercharge Your Roster Here
So, Which Roster Timing Is Best?
There is no clear answer as to which shift schedule is actually best. It really is a decision based on a business' unique needs, workforce makeup, and overall goals.
"In the final analysis any schedule… is most effective when 'owned' by the employees who have to work it."

~Circadian Technologies, Inc.
However, one thing is true across the board. Any schedule is only as effective as the amount of "buy-in" it gets from employees. Communication with employees is key when it comes to implementing or changing schedules.
Make sure they too are involved in ongoing conversations surrounding the benefits and challenges a potential schedule could pose to life both in and outside of work.
After all, a business is only as strong as the employees who play such a vital role in making it all run.
Here are a few other articles that may be of interest regarding different shifts;
Cheers,
Disclosure: This page may contain affiliate links, meaning we receive a commission if you decide to make a purchase through our links, but this is at no additional cost to you. Please read our disclosure and privacy statement for more info.
Disclosure: This page may contain affiliate links, meaning we receive a commission if you decide to make a purchase through our links, but this is at no additional cost to you. Please read our disclosure and privacy statement for more info.
Recent Posts