Disclosure: This page may contain affiliate links, meaning we receive a commission if you decide to make a purchase through our links, but this is at no additional cost to you. Please read our disclosure and privacy statement for more info.
Have you ever heard the shift working schedule be referred to as the "Bachelor Roster?" I recently did and it blew my tiny mind. Is this a thing? Is working shift work really a deal-breaker when looking for love and trying to find a relationship?
How to date as a single shift worker? The number one rule is not letting your shift working job dominate the conversation. Dating a shift worker does require a little more preparation, communication and creativity when it comes to activities. But you'll be surprised how invigorating life is when sharing experiences outside the norm.
You are not doomed in the dating world just because you work a shift work schedule. Respect the time you have together and be sure to make every second count. Let's explore just how to make this happen, so that the "right one" sticks.
Are You Really Ready to Find Someone Special as a Shift Worker?
So you're struggling to experience success in the dating world as a shift worker, right?
Well, you have a choice my friend depending on how bad you want it.
You can quit your irregular jobs and give away the financial bonuses for a consistent, mainstream lifestyle in the hope of better health and finding a partner.
Or, stick to the weird routine you're on because either jobs are tight in your area, you love what you do or you just need the money…
That's the honest choice.
Most of us are the later, right? Otherwise, you would have probably quit by now and wouldn't be on our site…
If you're going to stick it out as a shift worker, we need to make sure we are looking after number one, in order to show our best self to somebody new.
Use this time to focus on the areas of your life which may be annoying, frustrating and uncomfortable so you're ready when somebody does unexpectedly come along.
Think about:
Are You Getting Enough Sleep?
If not, you need to spend some time here either seeking help or changing your routine before bedtime yourself.
We recommend these sleep aids and wearing blue light blocking glasses in order to help your brain and body wind down before bed.
Swanwick Sleep (which is what we are wearing below) are our go-to every night and you can get yours here. We also recently published a buyer's guide to buying your first pair which you can check out here.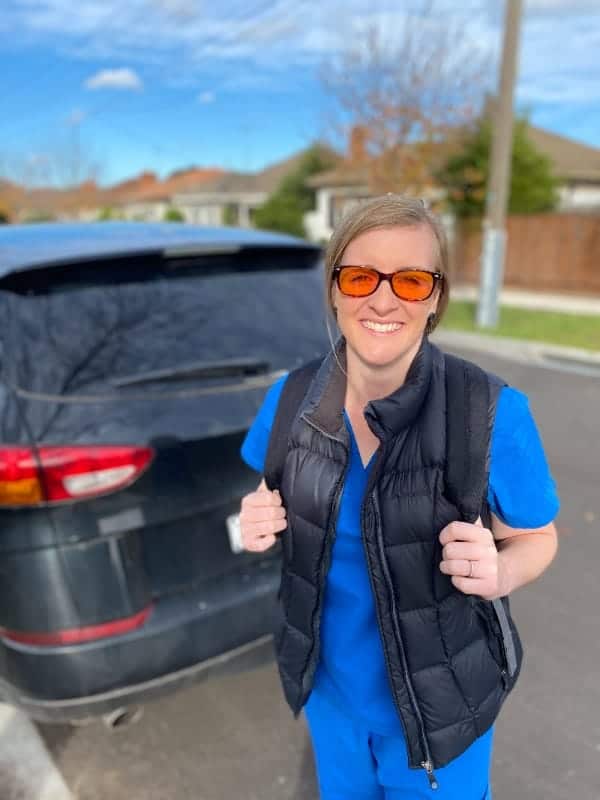 Are You Feel Fit and Healthy?
If not, consider starting to meal plan, stop buying junk and find an exercise regime which is affordable and excites you to go every day.
If you need some help overcoming shift work exercise excuses, see this post – 5 Tips To Solve Your Crazy Shift Work Exercise Excuses.
We also have a post about working out after a night shift which you can read here. I know this may seem odd and not overly effective, but it could just be the perfect time to workout you've never considered.
Are You Feeling Stressed and a Little Burnt Out?
Use this period to start making time for yourself.
Listening to self-guided meditation, use essential oils and incorporate yoga into your life.
You may say, as I did, "I'm not into this stuff..." but I dare you to try it and see the positive impact it can have on you, as it did me.
Ask yourself, would you find a grumpy, tired, flat and run down person attractive?
If you can't alter your shift work lifestyle, embrace it. Use your unusually timed freedom to understand yourself, what you need, what you're looking for and go get it.
We all have our bad days, and I'm certainly not perfect but ask yourself, are there things you can do, "on the back end" to make yourself feel confident to hit the dating world feeling alive?
Be More Than the Strange Shift Working Hours
"So what do you do?"
Often the first question that gets asked on any date, right?
If you've landed yourself a date, go ahead and tell them about your shift work job, but don't be afraid to steer the conversation in a different direction after a short while.
You're interesting. You have talents. Let these things be what your date sees first and not how challenging your shift work schedule can be.
Don't give them a reason to already want to pick up their jacket and leave because you sound 'all too hard'.
If you make your shift working life seem difficult and unmanageable as the person actually doing it, how do you expect a potential partner to respond when they hear it for the first time?
Shift work can absolutely be a barrier to dating and prevent it from turning into a long term relationship – if you let it.
I know what you're thinking, Yes, it probably won't be long until they figure out your schedule can be a little tricky.
But in the beginning, try not to focus on this and be clever with how you logistically meet up.
It may be harder to get to know them "under these conditions" but make sure during your dates and meetups you're showing them why you're worth the hassle.
Later in this post we explore some excellent date ideas.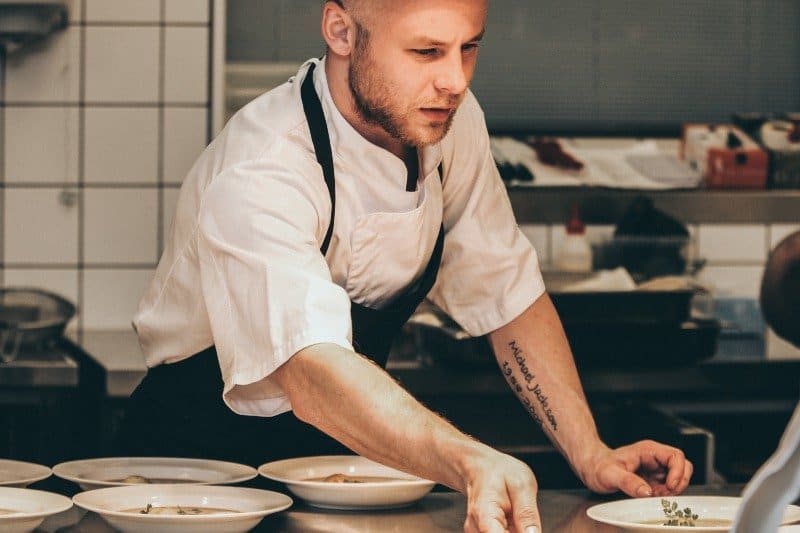 Shift Workers Dating Shift Workers
Are you looking for somebody already working our unique schedule, like a fellow shift worker, or do you want somebody who works 9-5? It's an interesting predicament.
I've done both, with the same guy and it's a different ball game depending on what you choose.
Dating a shift worker like a firefighter, police officer, a nurse (good choice), a doctor, paramedic or pharmacist, who actually understands your schedule may be the blessing in disguise.
Do two 'wrongs' make a right? Maybe…
You will have a strange, wacky timed life but let me tell you, there is nothing uninteresting! It takes work, compromise and can be frustrating at times, but usually, you have the restaurants to yourself and there is no waiting in lines at popular eateries.
On the other hand, you go for a 9-5 worker. There is less ambiguity about when at least one of you may be free, which could be what you need?
Our tip: If you've only tried dating 9-5 workers, maybe start hanging around bars at 6 am. I'm sure you'll find a bunch of excited, chatty night shift nurses ready for a drink.
Just a tip if you're on the hunt for a nurse: Don't judge a book by its cover. Our hair might be messy and our scrubs could be marked, but we've got one heck of a good story to tell and are pretty great company!
"But I Don't Like Dating Apps and I'm Absolutely Not Open to Meeting Anyone at Work"
It may seem like everyone is using a dating app, but they're not. People are still meeting the love of their lives out and about, but they're just not announcing it to the world on social media.
I recently heard the phrase "IRL," and as an ageing millennial, I had to Google what it meant, "In Real Life"… Cool.
So, meeting somebody IRL (see what I did there) saves time and you get to suss out their vibe from the start.
Here are some fresh ways to meet somebody new not via a dating app or at a bar and also do shift work (the introverts can be involved here too):
Ask a friend to introduce you to their single friends
At least you know your friend won't waste your time on somebody clearly not compatible.
Try volunteering at an event
Music festivals, sporting events, food and wine festivals and local fundraisers are always looking for another set of hands. Be involved in an event you're interested in. This way if you don't meet anybody you dig, at least you had fun.
The gym
If you see somebody cute, get some weights or a mat and go workout near them. The conversation will start sooner than you think.
Parties
I know after a shift you might not have the energy to go to a party or gathering but put on your party outfit, brush your teeth, spray some perfume and just go. If it's a friends party there is likely to be other cool people to vibe with.

Another note about parties – get out the corner where you're chatting just to your mates and don't be afraid to make eye contact with somebody who 'catches your eye'. Your mates will always be there but that special person might not be.
Here are a few more places and activity suggestions to get you excited:
Comedy shows
Book signings
Surfing lessons
Yoga studios
Rock climbing centers
Book clubs
Writing or photography classes
Hiking or walking groups
Try the Meetup app and join a group of people doing something fun and different
Read online forums and see where your "type" is hanging out
Dating When Working 12-Hour Shifts
If you work 12-hour shifts, it is possible to have a drink after work, even though you don't feel like it. I dread it too, but once I'm there, it's all good. You can still be in bed by midnight, whilst have had a top evening.
If you're totally exhausted, that's okay too, just re-book for a day off or when your schedule allows it.
After You've Been on a Few Dates and Got to Know Each Other a Little…
Use the Time You Do Have Together Wisely
Often recouping after a long, busy few shifts means lounging on the sofa, chilling out and watching Netflix. And that's fine… totally fine. We all need this, but if you've spent the last couple times catching up doing this, isn't it time to mix it up?
Here are a couple of suggestions for fun things to do even after a long shift to spend time together and three golden rules for making the most of your time:
Check out events happening in your local area by jumping on Facebook events or Google what's happening around where you live…
You might be surprised with what your local area has to offer you and your date.
Go to the cinema/movies instead of sitting at home watching something on T.V. Why not kick on by getting some pancakes after it's finished?
Watching the sunrise together. Yes, it's potentially awkward for one party but can leave a lasting impression.
Breakfast dates after or before a shift (much cheaper than dinner dates anyway and generally have decent specials!)
Sleep in together when you have the chance
For the art lovers, visit museums and art galleries away from the crowds.
Workout together. If you work night shift and they work 9-5, why not complete a workout after they've finished work and you're about to leave. Couples who 'work out together stay together right?"
Those who work out together stay together? Corny… but can it work?
The Three Golden Rules for Making the Most of Your Time Together
Time or lack of time seems to be the biggest barrier to successful dating life and finding the right one. These three points have been HUGE in keeping our marriage alive when working shift work.
1. Do Not Take Your Phone to the Bedroom
If you need the alarm, charge it just outside the door so you can still hear it (Yes, I am making snoozing hard) but don't plug it in next to your pillow.
You now not only have time to focus on the person beside you but it's also incredible for your brain not to be exposed to the blue light and stimulus before bed. The effect that this tiny thing can have on your relationship is unbelievable.
The Philips Wake-Up Light Alarm Clock

is perfect for waking up gently by gradually increasing the light in your bedroom, not using the phone light. This alarm light is SO popular on Amazon and worth checking out the reviews here.
2. Be Present
When they get home from work, close your laptop, turn down the TV, hush the music and just listen. If they need a 'timeout' like Dan when they first get home, let them but be ready when they do want to talk.
Don't be distracted with social media or watching the TV because whether you like it or not you're subconsciously saying, "I'm more interested in this than you…"
3. Keep Your Phone in Your Pocket or Bag
When out on a date, having dinner or just having a drink at the bar, put your phone away.
Having your phone, even face down is telling your date you would drop everything, including them if your phone rang. If you need it for work, kids or an emergency, explain why you've got it out, or simply have it close by on loud.
Keep Reading…
Summary: Shift Work Single Life: How to Make the Right One Stick ​
Dating and even enjoying a life long relationship as a shift worker is what makes you interesting.
Embrace it.
Don't let your long hours and short cross over time be all your next partner gets to see. Show them your talents and educate them about your interests first.
We live interesting lives which are different and intriguing from the 9-5 workers. Let this be an excuse to be creative to see new things and experience new situations.
There is certainly nothing boring about dating a shift worker and they will learn to love it!
Thanks for reading this post about single life and dating as a shift work. What other ideas do you have to meet somebody as a shift worker?
Cheers,

Disclosure: This page may contain affiliate links, meaning we receive a commission if you decide to make a purchase through our links, but this is at no additional cost to you. Please read our disclosure and privacy statement for more info.
Recent Posts