Disclosure: This page may contain affiliate links, meaning we receive a commission if you decide to make a purchase through our links, but this is at no additional cost to you. Please read our disclosure and privacy statement for more info.
It's probably hard to believe you're here. You put in the endless hours of studying, paid the tuition, graduated, and landed your dream job. You are a Registered Nurse! This is everything you've ever wanted, right? Or, is it?
I'm going to be completely honest with you. At first, I loved my job. I loved being a nurse. I still do, most of the time. Unfortunately, though, nursing is not all what it seems. The long hours, lack of sleep, high stress environment, the awful feeling of leaving work when there is still work to be done begins to take its toll.
If you are tired of being a nurse, take a moment to understand why and what caused these feelings. You may be able to reverse your negative mindset with support and implementing key coping strategies. However in some situations changing jobs entirely may be most effective to regain positivity and control.
If you find yourself struggling to not only have the motivation to put your scrubs for the millionth time but to show empathy once you get to work (or something similar) this post is for you.
I'm Tired Of Being a Nurse. How Did I Get Here?
Nurses are held to such high expectations every single day, often with limited support regarding the emotional and physical strain of the job.
From the minute we graduate, we are placed on this pedestal with a load of responsibility that, at some point, can bring you down. When you get to the point where you are questioning your choice, asking if this is right career for you, you might be experiencing what we call "nurse burnout."
It's real and it's ugly.
Nurse burnout is caused by many different reasons and you'll find yourself starting to hate your job.
The workload is getting heavier and the patients are getting sicker, but we are expected to perform at our best without adequate staffing, breaks, or sleep.
This leads to increased stress in individuals which can cause weight gain, high blood pressure, hair loss, headaches and digestive problems. Others might also complain about fertility issues, in both men and women and menstrual irregularities.
Unfortunately, after caring for others for 8-16 hours a day, there is little time to care for yourself. How can you possibly find time to get an hour workout done, three well-balanced meals and snacks and a solid eight hours of sleep? (Here's a YouTube we made about sleep specifically for shift workers.)
The average person can feel like they are stressed on a daily basis with working full time, raising a family, performing house duties, finding time to exercise and eating healthy. But, this is "normal" stress. At the end of the day, most can wind down to sleep and look forward to a weekend to do something enjoyable and relax.
Nurses lives are different. We don't work normal schedules. We don't get much time to unwind at the end of the day. And we certainly don't get to see many Saturday / Sunday weekends.
There honestly should be a separate definition in the dictionary called "nurse stress."
Nurse stress and burnout isn't something new. Prior to the coronavirus pandemic, nurse burnout was gaining more attention, and many healthcare organizations were starting to address the problem. But, then the pandemic hit and stress and burnout increased to a new all-time high.
So what options do we have?
The first and most important thing to recognize is if you are dealing with typical stress or if you are actually experiencing burnout. It's not black and white for every nurse, but there are detectable symptoms you should be watching for.
Related: Shift Work Burnout: Causes, Red Flags and How to Beat It​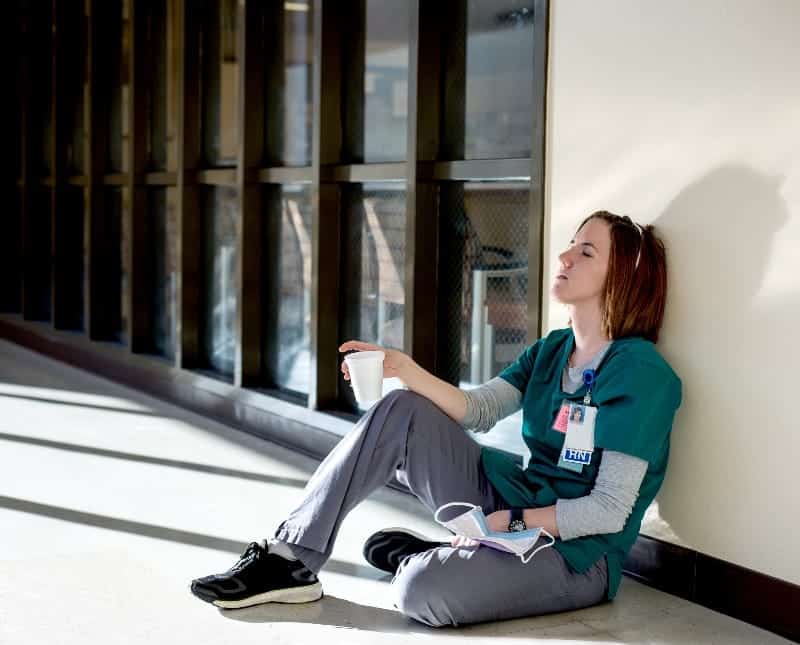 What Does Nursing Burnout Look Like?
You're always tired – there is a difference between normal fatigue and absolute exhaustion. If you cannot function outside of work, you could have burnout.

You dread going to work – nursing is a thankless job, so it's normal to feel unappreciated. But if you absolutely dread going to work every day, you could have burnout.

You're insensitive – this is the "nurses up on a pedestal expectation." Nurses are said to be the most compassionate, caring individuals. If you find yourself not caring, you could have burnout.

You find yourself getting sick often – no sleep, poor nutrition, constant fatigue is the recipe for illness. If you are not one who usually gets sick, but find yourself with increased episodes of illness, you could have burnout.

You develop overwhelming anxiety – you're constantly worrying about something, about everything. Your job, your patients, your family. Living life with constant worry might mean that you have burnout.

Resistance to change – EPIC update anyone? Healthcare changes on a daily basis. There are always new ways to improve the way we care for our patients. But if you find yourself resisting any new changes, you may have burnout.

No feelings of personal accomplishment – nursing is very task oriented which would make anyone feel good at the end of the day. But, even after checking off all the boxes, you still feel like you didn't do good enough. You question your career choice and start feeling worthless. This is a sign of burnout.

Depression – not just feeling sad, feeling like there is literally nothing in life that brings you joy anymore. Especially not your job. Burnout. Related post – Night Shift and Depression. Are They Linked?
Not only does nurse burnout affect the individual, the hospital and the patients in it suffer as well.
Negative effects of nurse burnout in a hospital can lead to increased infections, increased mortality, reduced quality of care and increased errors. No one wants to work for or be a patient in a hospital with these types of ratings.
It also leads to nurse turnover, which exacerbates the nurse shortage and leads to increased workloads and stress for the remaining nurses. Fewer nurses with heavier workloads and more stress then leads to decreased patient satisfaction.
So you hit the bullseye, you diagnosed yourself, you are burnt out and tired of being a nurse. What can you do? Thankfully, you are a super nurse problem solver and will be able to figure it out. It might take a few tries, but I'll share with you two ways to treat nurse burnout.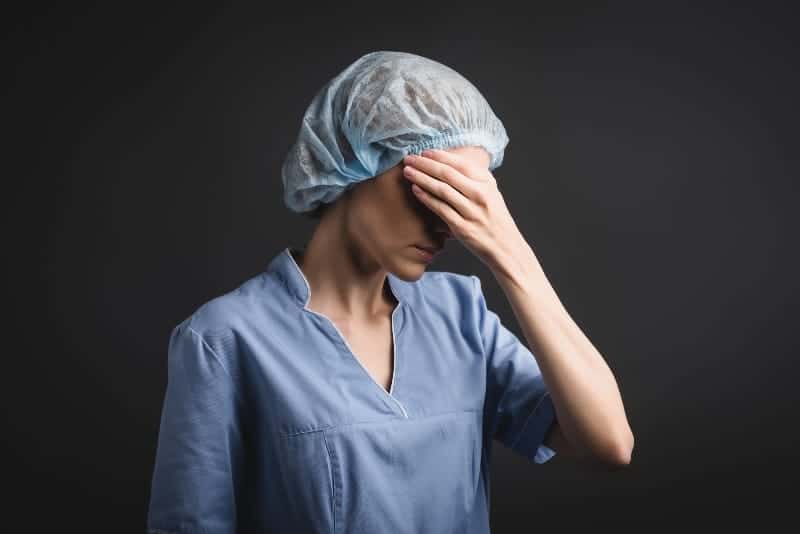 Strategies For Those Tired of Being A Nurse
Option 1
Start by figuring out ways to make your quality of life better. Most nurses are so used to helping others that you forget that you need to help yourself.
You can seek out mental health assistance through support groups or finding a therapist or counselor. There are often free services linked to the hospital to provide support for staff. Though you'll likely only receive limited sessions, it's a good start.

You can learn coping mechanisms like deep breathing, meditation, journaling or develop a post work relaxation routine. I want to recommend two books which can help here, Phopheresence and Limitless. They are not nursing-related in the slightest but have got me out a rut or two.

You can talk to your boss and try to change your schedule or see if you can hire extra help at home so you have more time to rest. You're probably all over the rostering side of things, but this post might be a good reminder.
All these are great ways to start if you feel like you are at the beginning point of burnout. However, if this is not an option, you can make a change. You can either switch specialties in the hospital, or, option number two, you can get out of the hospital altogether.
Option 2
Even though you are totally sick of your job, luckily you chose a degree with endless opportunities.
Most of them do not require you to step foot in a hospital ever again, but you can make just as much or even higher income.
The list is actually quite large, but I'll tell you about a few avenues you could go down with the approximate salary involved (depending on where you practice and how many years of experience you have).
As a quick summary, I've put together a table below of some potential jobs available to use with a nursing degree with the average expected salary. If you keep reading I dive much deeper into each position so you know what to expect.
| Potential Job | Average Expected Salary Per Year |
| --- | --- |
| Nurse Writer | $68k (but some can make up to $120k annually). (source) |
| Legal nurse or Legal Nurse Consultant (LNC) | $75k (You can become an independent contractor and make up to six figures in annual income) |
| Cruise Ship Nurse | $75k |
| Correctional Nurse | $60-80k (usually dependent on how big the city is you work in). |
| School Nurse | $50k |
| Esthetic Nurse | $70-100k |
| Vaccine Nurse | $46-119k (Work for this position varies in how many hours you will see) |
| Occupational Health Nurse | $50-70k |
| Certified Nurse Midwife | $120-160k |
| Home Health Nurse | $60-100k (depending on location). |
Nurse Writer
Something I am very passionate about is educating my patients. But, in the hospital, they don't want to listen to you. They would rather google it! Guess what? You can write for google and still call yourself a nurse.
You have so much knowledge jammed into your brain, why not put it in writing! Many companies hire nurses to do their articles because we have first hand experience and the facts to go along with it. Everything from creative writing to content writing is available.
You don't even need any extra certifications to get started. Just start writing and the right job will come to you! Take a look at Upwork to get started.
Median salary for a nurse writer is $68k, but some can make up to $120k annually. (source)
Legal nurse or Legal Nurse Consultant (LNC)
Lawyers are smart, but they don't have medical knowledge. This is where a nurse can come in handy.
Legal nurses provide consultation and expertise to attorneys about medical issues. Reviewing medical records and explaining medical jargon can be very beneficial to law offices.
In medical malpractice cases, they want to know if the person at fault did what they were supposed to be doing. You can also stand up in court as an expert witness.
Most legal nurses do not have certifications other than their nursing degree, but you can find online programs that will teach you in depth how to be an LNC.
You can become an independent contractor and make up to six figures in annual income, but the average legal nurse salary is about $75k.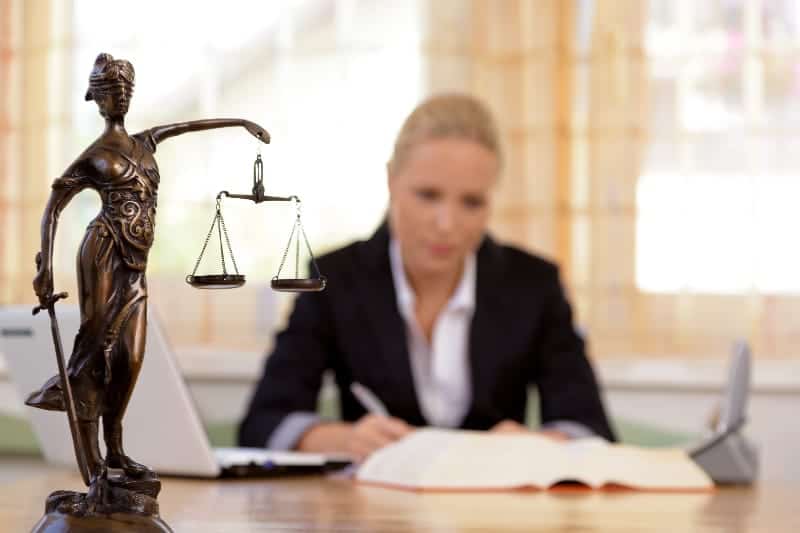 Cruise Ship Nurse
Just imagine, patient care with sea air in your hair! Honestly, wherever there are people, there is someone who needs some type of medical care.
Cruise ship and yacht nurses perform basic first aid skills, administer medications, and occasionally handle emergency medical care. You will expect to see a job requirement of at least 2-3 years of acute care nursing on the job post. These nurses also work odd hours and can be away from home for long periods of time.
If you are in a position that doesn't have commitments tying you to be at home, take advantage of this interesting opportunity.
Cruise ship nurses can bring in about $75k per year.
Correctional Nurse
Correctional nurses have an important job of taking care of jail inmates. They give out medications, treat injuries like stab wounds and broken bones, and sometimes accompany inmates to the hospital.
You will need to be able to triage very well and identify emergencies readily. This job only requires you to have at least one year of nursing under your belt.
Pay is approximately $60-80k per year usually dependent on how big the city is you work in.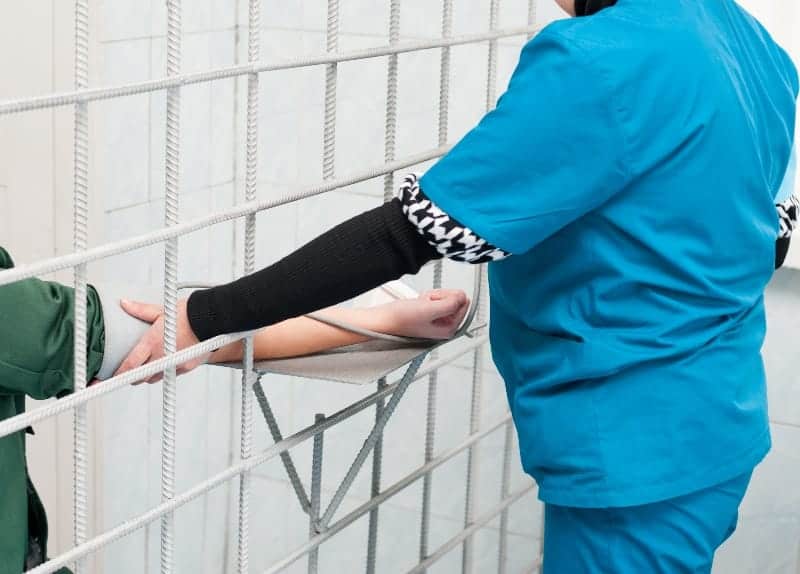 School Nurse
Take care of little humans by administering medications, provide minor first aid, and responding to medical emergencies. You will be addressing physical, mental, emotional, and social needs of students. If you love kids, this might be a good option for you.
The median salary is $50k.
Esthetic Nurse
These days, looking your best is very important to lot of people. No need to use instagram or facebook filters if you have your own nurse to give you botox!
Nurses can work in dermatology clinics or medical spas performing services such as laser hair removal, administering injections such as botox and fillers and assisting doctors with other skin care procedures.
Some nurses can become independent contractors and travel around to different spas offering their services.
These special nurses can make anywhere from $70-100k.
Vaccine Nurse
Hello pandemic! Now is an excellent time to step away from the bedside and step up to helping out eager individuals who want their vaccines. Many agencies are paying big bucks for nurses to roll out thousands of vaccines to help the world achieve herd immunity.
Work for this position varies in how many hours you will see, but you can still make a good living with an income of $46-119k.
Occupational Health Nurse
Many large corporations such as Amazon and Google hire nurses to focus on safety and wellness in the workplace. They identify potential hazards and recommend procedures to prevent accidents. They may also provide care to employees on the job.
The median salary is $50-70k per year.
Certified Nurse Midwife
When I was in school, at least half my class wanted to work in pediatrics or obstetrics (OB). After you obtain a masters degree, you can work in birthing centers, public health clinics, or in the client's home delivering babies and looking after women's gynecological and reproductive health.
The mean salary for nurse midwives is $120-160k per year.
Home Health Nurse
This job allows nurses to get a more personal connection with their patients. It's perfect for the nurse who loves to educate in a more personal setting. Home health nurses collaborate with doctors to develop a plan of care in the patient's home. They visit their patients in their homes and carry out tasks like taking vital signs, wound care, medication administration, and blood draws or blood glucose checks.
The average income is $60-100k depending on location.
As I said these are just a few ideas on what to do with your nursing degree if you don't want to work in a hospital.
If you have the support, time, and money, you can also go back to school to earn a master's degree, such as Master of Science in Nursing or Doctor of Nursing Practice.

That opens up another whole world of nursing possibilities such as becoming a family nurse practitioner or nurse educator.
Next:
If you're new into your nursing career and you're feeling like this, we have a few posts which might be helpful;
In Summary: Tired of Being a Nurse? You Haven't failed. Here's What's Next
Thankfully there are many resources out there to help nurses with burnout.
You can do your best to prevent it, but sometimes it's inevitable. The moral of my story is you have to do what makes you happy.
Life is too short to live every day wishing it were different.
Take pride in what you know and what you can do. You can still be a good nurse if you are not working in a hospital. People will still see you glowing on top of your pedestal.
Cheers

Disclosure: This page may contain affiliate links, meaning we receive a commission if you decide to make a purchase through our links, but this is at no additional cost to you. Please read our disclosure and privacy statement for more info.
Recent Posts